Cholera surfaces in flood-hit Pakistan, as fresh deluges threaten new parts of the south
By Nahal Toosi, AP
Saturday, August 14, 2010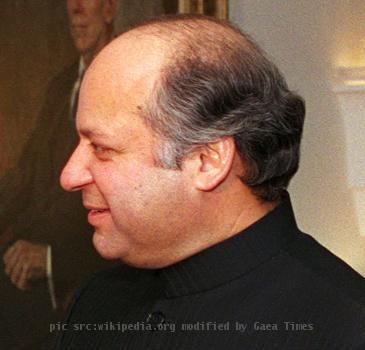 more images
Cholera strikes amid Pakistani flood disaster
SUKKUR, Pakistan — The deadly, waterborne disease cholera has surfaced in flood-ravaged Pakistan, the U.N. confirmed Saturday, adding to the misery of 20 million people the government says have been made homeless by the disaster. A fresh surge of floodwater swelled the Indus River, threatening previously spared cities and towns in the south.
The crisis has battered Pakistan's economy and undermined its political stability at a time when the United States needs its steadfast cooperation against Islamist extremism. The U.N. has appealed for an initial $460 million to provide relief to Pakistan but has said the country will need billions to rebuild once the floodwaters recede.
Because of the flooding, Pakistan canceled celebrations Saturday marking its creation and independence from Britain in 1947. President Asif Ali Zardari met with flood victims in the northwest, and U.N. Secretary-General Ban Ki-moon was expected to visit affected regions on Sunday.
The floods have killed about 1,500 people, and aid workers have warned that diseases could raise that toll.
One case of cholera was confirmed in Mingora, the main town in the northwest's Swat Valley, U.N. spokesman Maurizio Giuliano said Saturday. But other cases were suspected, and aid workers are now responding to all those exhibiting acute watery diarrhea as if it is cholera, Giuliano said.
Cholera can lead to severe dehydration and death without prompt treatment, and containing cholera outbreaks is considered a high priority following floods.
The Pakistani crisis began in late July, when unusually heavy monsoon rains tore through the country from its mountainous northwest. Hundreds of thousands of homes have been destroyed. Agriculture has been severely hit, with an estimated 1.7 million acres (nearly 700,000 hectares) of farmland wiped out.
U.N. officials, citing government figures, previously said about 14 million Pakistanis were directly or indirectly affected.
But in a televised address to the nation Saturday, Prime Minister Yousuf Raza Gilani said 20 million were now homeless. He did not elaborate, and it was unclear how many of those people were briefly forced to leave their homes and how many had lost their houses altogether.
Fresh flood waves swelled the River Indus on Saturday, threatening nearby cities, towns and villages in southern Sindh province, said Mohammed Ajmal Shad, a senior meteorologist. The Indus was already more than 15 miles (25 kilometers) wide at some points Friday — 25 times wider than during normal monsoon seasons.
Authorities were trying to evacuate or warn people in Jacobabad, Hyderabad, Thatta, Ghotki, Larkana and other areas in Sindh province that so far have been spared floods.
Ghulam Sarwar said he, his wife and eight children had already fled the town of Thal because of flooding. Overnight, they had to get out of Jacobabad after the fresh warnings. Now they wait in a small tent relief camp on the edge of the city of Sukkur.
"Our whole world has been ruined by the flood, and the whole of Sindh is drowning," the 42-year-old said. "We do not know how long we will have to suffer."
The Pakistani government's reputation — already shaky to begin with — has suffered during the crisis, especially after the president decided to visit Europe as the crisis was unfolding. Zardari has tried to make up for that public relations gaffe by meeting with flood victims in hard-hit areas since returning.
"We are with you. Pakistan is with you, and the people of Pakistan are with you," he told survivors at a relief camp in the northwest's Nowshera city Saturday. He promised the government would rebuild victims' homes.
Aid experts say the pace of international aid coming in to Pakistan has been relatively slow compared to other major crises. They say the slow onset of the disaster, the global economic downturn and the perception of Pakistani corruption might all be factors.
Gilani agreed to a proposal from opposition leader Nawaz Sharif that an independent body be appointed to raise relief funds and oversee their spending in a transparent manner to boost Pakistan's credibility in the eyes of the international community.
The United States has donated the most to the relief effort, at least $70 million, and has sent military helicopters to rescue stranded people and drop off food and water. Washington hopes the assistance will help improve its image in the country — however marginally — as it seeks its support in the battle against the Taliban in neighboring Afghanistan.
"So far, if anyone has practically given us maximum help, it is America," Gilani said Saturday when a Pakistani reporter suggested the U.S. has done little since the crisis started.
Associated Press writers Asif Shahzad and Munir Ahmed contributed to this report from Islamabad.
Filed under:
Accidents and Disasters
,
Weather
Tags:
Asia
,
Asif Ali Zardari
,
Diseases And Conditions
,
Emergency Management
,
Floods
,
Infectious Diseases
,
Nawaz Sharif
,
North America
,
Pakistan
,
South Asia
,
Sukkur
,
United States