Cyclone In Chennai Weakened Considerably
By Madhusmita, Gaea News Network
Monday, November 8, 2010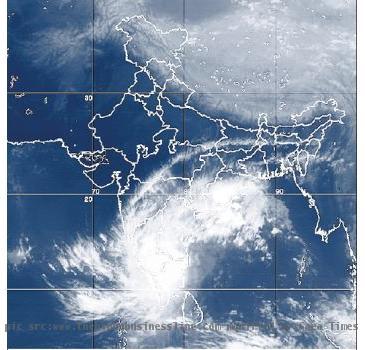 more images
CHENNAI (GaeaTimes.com)- As the people of Tamil Nadu braced themselves for rough weather by shutting down all educational institutions, offices etc., the Regional Cyclone Warning Centre in Chennai has announced that Cyclone Jal has weakened considerably by Sunday night. Cyclone Jal was expected to hit the coast between Chennai and Nellore in southern Andhra Pradesh last night. An official from the department said that the wind speed has come down from 130 kmph to 70 kmph.
Jal Cyclone is the severe cyclonic storm that formed 700 km southeast of Chennai in Bay of Bengal a couple of days ago. YEA Raj, deputy director general of meteorology at the Regional Meteorological Centre in Chennai said that Jal Cyclone has become a "cyclonic storm" from being a "severe" cyclonic storm. However, he added that the cyclone would produce heavy rains over next couple of days in Chennai and neighboring districts, besides southern Andhra Pradesh. The Tamil Nadu government is concerned about the safety of the citizens and has left no stones unturned for rescue and relief work.
The Regional Meteorological Centre in Chennai previously announced that the winds might damage thatched huts, disrupt communication and power supply and can even snap tree bunches. The fishermen are advised not to venture into sea yet. A reputed media source reported that by last evening rain claimed one life in Mylapore, the bad weather disrupted visibility and hence 16 flights were diverted to Bangalore and Hyderabad between 7.30 am and 5 pm. However, the weather condition improved in the latter half of the day. The meteorological department officials said that though Cyclone Jal in Chennai has weakened, heavy rains are expected in Chennai and its nearby districts.