IMD: Chennai On Cyclone Jal's Path
By Tias, Gaea News Network
Sunday, November 7, 2010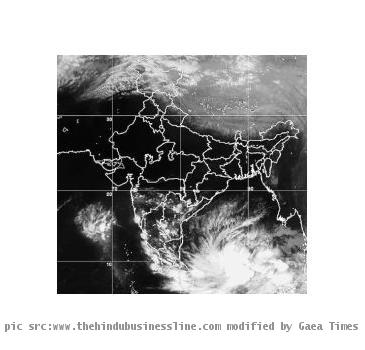 more images
CHENNAI, INDIA (GaeaTimes.com)- The Indian Meteorological Department (IMD) has confirmed that the Cyclone Jal is headed towards the country and has gathered great momentum. The IMD reports indicate that the storm could turned into a severe cyclonic storm and might hit Chennai and adjacent areas of the state. The storm remained almost stationary on Saturday morning. The IMD said that the storm would intensify further and move north-westwards towards the south eastern coast of India. It is expected to hit Chennai, sometime around Sunday evening or night.
The IMD has also said that isolated heavy to very heavy rainfall is likely to continue in Tamil Nadu and Andhra Pradesh where the effect of the storm has already been felt. Going by the direction that the severe cyclonic storm has already taken, it looks like it is likely to hover around the Indian coasts for sometime. The Joint Typhoon Warning Center (JTWC) predicted that the Jal could track over south India and fall into the Arabian Sea where it would gather even more intensity. It also predicted that certain permanent winds could also change its path just slightly which would be enough to pass it directly through Chennai.
The IMD's reports have allowed the authorities along the south-eastern coast of India to warn the fishermen and evacuate as many people as possible from the track that Jal is likely to follow. Winds of 60-70 kmph are likely to prevail along the coasts of Andhra Pradesh and Tamil Nadu and once Jal has made landfall, wind speeds could go up to 130-140 kmph. The seas off the coast of Tamil Nadu are likely to be very rough, according the IMD bulletin that was issued on Saturday. Reports also indicate that the rainfall could be more than 25cm in areas in and around Chennai during the storm.