California Weather Continues Its Fury
By Swatilekha Paul, Gaea News Network
Thursday, December 23, 2010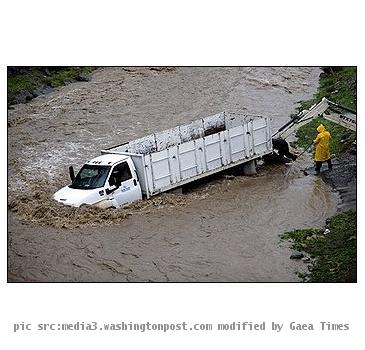 more images
LOS ANGELES (GaeaTimes.com)- Over the past week, the U.S. state of California has witnessed a record rainfall in years which has triggered flooding and mudslides in many regions while also resulting in extensive evacuations amidst fears of further damage. Extensive parts of the state were at the receiving end of a heavy storm system that brought torrential rains along with it. The flooding as well as the mudslides came at the end of a week of adverse weather conditions during which the city of Los Angeles witnessed half of its annual rainfall within a span of just six days.
Gov. Arnold Schwarzenegger has announced a state of emergency in around six counties as the monsoon like weather conditions made its presence felt in large parts of California on Wednesday. Although the torrential rainfall has lost its grip to a certain extent, the ramifications of the unfavorable weather conditions is likely to be huge. Meanwhile, people residing on the foothills of the suburban parts of California have been ordered to evacuate their homes and move to safer locations so that any untoward incidents can be averted. Bob Spencer who is a spokesperson of the Los Angeles County Department of Public Works has said that the evacuation are of imperative importance as 'the ground is so saturated it could move at any time.'
Adverse weather conditions such as heavy snow, torrential rainfall as well as a dip in the temperature has wrecked a havoc in the western region of United States throughout this weekend while the states of Oregon and California have been most affected.