Obama, South Korean leader say North Korea must face consequences for alleged ship sinking
By Mark S. Smith, AP
Saturday, June 26, 2010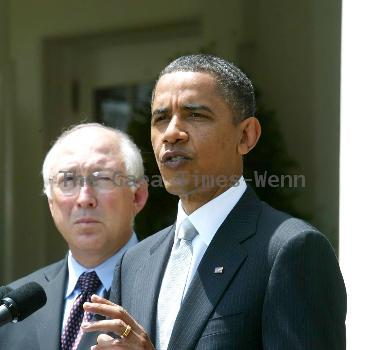 more images
Obama, Lee criticize North Korea on ship sinking
TORONTO — President Barack Obama said Saturday that North Korea must be "held to account" for its alleged sinking of a South Korean warship, a tough statement of support for an ally made at its leader's side.
After talks with South Korean President Lee Myung-Bak on the sidelines of global summits here, the U.S. president used some of his strongest language yet about the March sinking of the South Korean warship Cheonan.
An independent report has found it was sunk by a North Korean torpedo.
"There have to be consequences for such irresponsible behavior," Obama said.
Also pleasing Lee, Obama announced he would submit to Congress by early next year a long-upheld free trade agreement with South Korea.
He said the U.S. will resume talks with South Korea to resolve the remaining issues. The goal is to complete the talks before the Group of 20 international summit, to be held in Seoul in November. Obama said he would present the accord to Congress within a few months after that, at the latest.
"It is the right thing to do," Obama said.
The free trade deal with South Korea that was negotiated by the Bush administration in 2007 has been stalled because U.S. automakers complained it did not go far enough to remove barriers to the sale of American cars in Korea. Since taking office in January 2009, the Obama administration has refused to send the agreement to Congress for the required vote.
South Korea has referred the ship sinking to the U.N. Security Council. Lee said he wants a "strongly worded" resolution and Obama said "we stand foursquare behind him."
Such tough talk also came up in the U.S. president's next meeting, with Chinese President Hu Jintao. White House national security aide Jeff Bader said that the U.S. is asking China to reinforce the message, including before the Security Council.
Since China is a veto-wielding member of the Security Council, its support is required for any resolution. Beijing, as North Korea's main ally, has resisted punishment for Pyongyang, but Bader said progress is being made.
When Obama and Hu briefly spoke to reporters before their meetings, they stuck to only platitudes.
"It's my belief that we've accomplished many things," Obama said.
"Real progress has been made in this relationship," Hu said.
Underscoring the point that often-difficult relations between the two powers could be improving, Obama asked Hu to come to Washington for a formal state visit — one of the most-coveted diplomatic invitations. Hu accepted, and White House officials said the two nations will work out a date. It would be the third state dinner of Obama's presidency, following ones for India and Mexico.
Obama also announced that he and Lee had agreed, at South Korea's request, to delay handing off wartime operational control of Korean forces on the Korean Peninsula from the U.S. to Korea until the second half of 2015. Korea was to have assumed control of its own forces in 2012 in the event of war. In light of the ship sinking, Bader said the decision was meant to "send a clear message of the U.S. staying power in the region."
Obama began his day by concluding a summit of the leading eight industrial democracies at a resort in Canada's forested Muskoka lakes region, then flew here for a second, expanded summit of the so-called G-20 nations. Those larger meetings were getting underway with a dinner.
In between, Obama met one-on-one with important foreign counterparts, including British Prime Minister David Cameron as well as Lee and Hu.
Obama's talks with Cameron were their first since the conservative British leader took power last month with a coalition government.
Among recent tension points are the BP oil spill in the Gulf of Mexico. BP, a British-based company, has come under fierce criticism from Obama and others in the U.S. since a rig it was leasing exploded on April 20, causing the biggest offshore oil spill in U.S. history.
But Obama aides said there was little conversation about the spill, given that the president and the prime minister had discussed it in detail on the phone two weeks ago. And neither leader mentioned the topic — nor took questions — when they addressed reporters after their hourlong session.
Obama and Cameron made clear that the troubled war in Afghanistan must see progress this year, what Obama called a "critical" period.
Said Cameron: "Putting everything we have into getting it right this year is vitally important."
Their meeting had a collegial feel after the president gave his British ally a ride back to Toronto on his specially outfitted presidential helicopter. "He threatened to send me a bill," Cameron joked. "But I said times are very tight in the U.K., so I'll have to take that as a free lift."
Associated Press writer Darlene Superville contributed to this story.
Filed under:
Accidents and Disasters
Tags:
Accidents
,
Afghanistan
,
Asia
,
Barack Obama
,
Canada
,
Central Asia
,
China
,
District Of Columbia
,
East Asia
,
Environmental Concerns
,
Greater China
,
Hu Jintao
,
International Agreements
,
International Trade
,
Lee Myung-bak
,
North America
,
North Korea
,
Obama
,
Ontario
,
South Korea
,
Summits
,
Toronto
,
United States
,
World cup