Thundersnow Disables City Life
By Ronee Roy, Gaea News Network
Thursday, January 27, 2011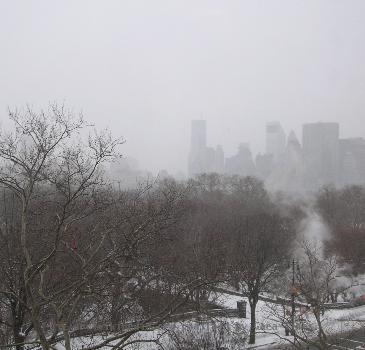 more images
NEW YORK, NEW YORK (GaeaTimes.com)- Tumultuous weather conditions have gripped the city of New York which has become already half-paralyzed due to the frequent thundersnow that has literally brought the life of the region to a stand still. On Wednesday heavy snow storm again caused a massive disruption to the region which continued til the wee hours of Thursday. Other than the city of New York New Jersey had to face to face the wrath as school closures and disruption of traffic brought the city life to a stand still.
Several flights were canceled with more than 600 flights reportedly being canceled from the New York are a airports. As per as reports, around three hundred flights were canceled from the Philadelphia airport. State workers were sent home early after thundersnow took the order of the day. This turbulent weather condition is however nothing new for the state which is continuously being inflicted by frequent snow storms. Even the US President Barack Obama had to fall under its wrath as he was coming back to White House from a trip to Wisconsin. The hazardous weather condition forced his copter to be grounded as he was later on met by a motorcade that escorted him back to his destination.
The heavy thundersnow forced the New York City to declare weather emergency, this being the second time since December 26 when heavy weather conditions brought the city life to a stand still. According to reports, since Dec 14 snow fall has taken over the New York City 8 times, with an average snow fall of one in every five days.