Oil execs slam Obama's 6-month deepsea drilling moratorium, say world needs new oil supplies
By Jennifer Quinn, AP
Tuesday, June 22, 2010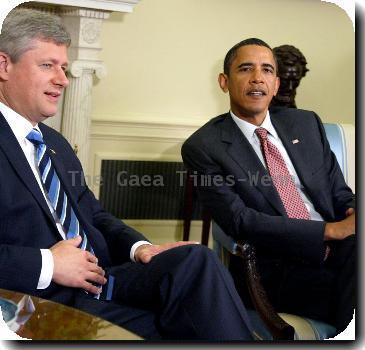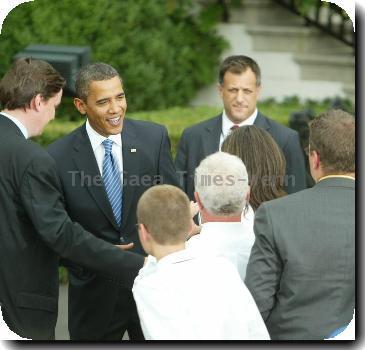 Oil execs close ranks behind BP, slam drilling ban
LONDON — After weeks of suffering the ire of the White House over the Louisiana rig spill, the oil industry is fighting back.
Rallying around beleaguered BP at a major oil conference Tuesday, industry leaders pressed President Barack Obama to lift the six-month ban on deepwater drilling he ordered after the Gulf oil spill. Deepwater drilling is expensive, risky and largely uncharted, but the industry argues it is necessary in a world where land and shallow-water oil supplies are running out.
Jay Pryor, Chevron's global vice president for business development, told delegates at the World National Oil Companies Congress in London that the moratorium will "constrain supplies for world energy" and "be a step back for energy security."
Obama's decision halted the approval of any new permits for deepwater drilling and suspended drilling at 33 existing exploratory wells in the Gulf. A federal judge in New Orleans blocked the moratorium on Tuesday, but the White House promised an immediate appeal.
BP chief of staff Steve Westwell, standing in for embattled CEO Tony Hayward, said that although regulations will change as a result of his company's blown well in the Gulf of Mexico, "The world does need the oil and the energy that is going to have to come from deepwater production going forward."
Westwell was interrupted twice during his address by protesters from Greenpeace who shouted, "We need to end the oil age!"
The hecklers were escorted out of the heavily policed central London hotel by security which also barred an Associated Press photographer from re-entering the conference. Organizers alleged he posed a security threat after talking with protesters.
BP's stock slid to a 13-year-low Tuesday in London, and the oil giant confirmed that Hayward was already in the process of handing over control of the oil spill, the worst offshore in U.S. history, to managing director Bob Dudley.
The owner of the rig that exploded in the Gulf on April 20, setting off the oil leak and killing 11 workers, said the deepwater ban is an unnecessary overreaction.
"There are things the administration could implement today that would allow the industry to go back to work tomorrow without an arbitrary six-month time limit," Transocean Ltd. president and CEO Steven Newman told reporters on the sidelines of the conference. "Obviously we are concerned."
The moratorium was challenged in court by an oil services company, Hornbeck Offshore Services of Covington, Louisiana, which claims the government arbitrarily imposed the moratorium without any proof that the operations posed a threat. A federal judge in New Orleans, Judge Martin Feldman, on Tuesday lifted the moratorium.
Hornbeck, which ferries people and supplies to offshore rigs, says the moratorium could cost Louisiana thousands of jobs and millions of dollars in lost wages.
In addition to the Gulf, there are more than 20 offshore rigs in Britain's North Sea, although they do not operate in waters as deep as the Gulf. Brazil, which sits on the world's potentially largest deepwater oil beds, has no deepwater rigs yet but plans to build 28 of them.
Hayward skipped the London conference after receiving stinging criticism for watching his yacht compete Saturday off England's Isle of Wight. That outing drew outrage on the Gulf Coast and an acerbic response from the White House.
Pryor, when asked if Chevron would have been as reckless as BP, said no oil company can reduce its risks to zero.
"There's always going to be that one chance in 10 million there's an accident. Just like the nuclear and airline industries," he said.
The blown-out BP undersea well has already leaked more than 120 million gallons of oil into the Gulf, according to the most pessimistic U.S. government estimates. Oil has been washing up from Louisiana to Florida, killing birds and fish and coating marshes, wetlands and beaches. A pair of relief wells considered the best chance at a permanent fix won't be completed until August.
Stock in BP traded as low as 333 pence ($4.95) on Tuesday in London, the weakest since February 1997. The shares closed 4.4 percent lower at 334.20 pence. The company has lost about half its value since the rig exploded.
Hayward has been overseeing the response to the spill but is gradually transferring responsibility to Dudley, BP PLC spokesman Jon Pack said. "The transition is happening right now," he said.
Dudley, a 54-year-old American who lost out to Hayward on the CEO's slot three years ago, will report to Hayward, who BP has said needs to focus on running the company.
Shukri Ghanem, the head of Libya's National Oil Corp. who serves as the North African nation's de facto oil minister, came to BP's defense, saying he was happy the company operated in his country. BP has onshore operations and shallow-water rigs in Libya.
Ghanem, who said he planned to meet with Hayward in London, said the spill is "a real tragedy, but in a way it's exaggerated."
"It is unfortunate, but it is an opportunity to be more careful in the future," he said.
BP signed an exploration and production deal with Libya's National Oil Co. — worth at least $900 million — in June 2007, sending the company back into Libya for the first time in more than 30 years. Libya's proven oil reserves are the ninth-largest in the world, while vast areas remain unexplored.
Libya has said it plans to start deepwater drilling in the Mediterranean soon.
Some believe the oil industry may be crying wolf. Many analysts say the continued strength of oil prices, which have mostly fluctuated between $70 and $85 per barrel over the past months, can be attributed to excessive speculation in the futures market. In reality, there has been a slow recovery of oil demand since the global credit squeeze and there are huge stockpiles of crude and refined products in the United States.
The International Energy Agency expects oil demand to rise less than previously expected this year, cutting its forecasts last month by 220,000 barrels to 86.4 million barrels a day.
Outside the London conference, Greenpeace protester Emma Gibson called on BP to end its investment in a controversial Canadian tar sands project, and to end deepwater drilling.
"We really need to speed up progress to end the oil age," Gibson told reporters.
Westwell said Hayward was "genuinely sorry" not to be at the conference but had to attend to other company matters. "He and I both hope you understand his schedule is under incredible pressure at the moment," he told delegates.
Hayward had been scheduled give a keynote address on the global responsibilities of international oil companies.
Associated Press Writer Andrew Khouri contributed to this report.
Filed under:
Accidents and Disasters
Tags:
Accidents
,
Africa
,
Barack Obama
,
Contracts And Orders
,
Energy
,
England
,
Environmental Activism
,
Environmental Concerns
,
Europe
,
Government Regulations
,
Industry Regulation
,
Libya
,
London
,
Louisiana
,
Moratorium
,
New Orleans
,
North Africa
,
North America
,
United Kingdom
,
United States
,
Western Europe