Obama promises all-out effort in Haiti, names USAID chief to coordinate relief, rescue
By Matthew Lee, AP
Wednesday, January 13, 2010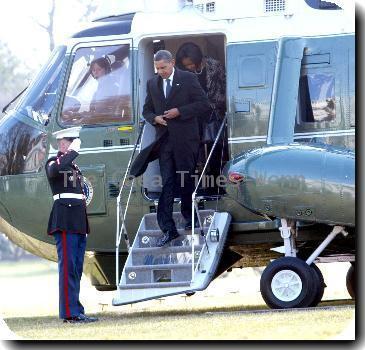 more images
Obama promises all-out US relief for Haiti
WASHINGTON — President Barack Obama is promising an all out rescue and humanitarian effort to help the people of Haiti overcome a "cruel and incomprehensible" tragedy, the ruinous earthquake that ravaged the poorest country in the Western Hemisphere.
The president said the relief effort is gearing up even as the U.S. government is working to account for Americans who were on the island nation when the disaster struck late Tuesday afternoon.
Obama said he named U.S. Agency for International Development chief Rajiv Shah to coordinate American efforts, and the president called upon all nations to join in helping stricken Haitians. Obama spoke Wednesday in the White House Diplomatic Reception Room.
THIS IS A BREAKING NEWS UPDATE. Check back soon for further information. AP's earlier story is below.
WASHINGTON (AP) — The United States is sending a disaster relief team to Haiti to assist victims of a powerful earthquake, as part of a coordinated American response that includes the departments of Defense, State and Homeland Security.
Rajiv Shah, administrator of the U.S. Agency for International Development, said a disaster response team "will be going in today."
Late Tuesday, President Barack Obama told members of his national security staff late Tuesday he expects "an aggressive, coordinated effort." Obama said his thoughts and prayers were with the people of Haiti and said the U.S. stood ready to help the impoverished Caribbean nation.
The president received additional updates on the situation in Haiti and the U.S. response Wednesday morning from his national security adviser and the Department of Homeland Security. He was scheduled to make a public statement on the disaster at 10 a.m. Wednesday, and the State Department scheduled a briefing.
Two U.S. defense officials said early Wednesday that the military was still in the assessing stage, trying to figure out what is needed.
One said officials were working to try to get the Navy hospital ship USNS Comfort to the area, though it was unclear whether it had been officially ordered to go. It would take some days for the ship, in port in Baltimore, to be serviced, supplied and arrive at Haiti, one official said.
The officials spoke on condition of anonymity because plans were still being formed.
The 7.0-magnitude earthquake caused thousands of buildings to collapse in Haiti's capital, Port-au-Prince, trapping untold numbers
Meanwhile, the U.S. embassy in Port-au-Prince has no confirmed reports of American citizen deaths. There are an estimated 40,000-45,000 Americans living in Haiti, but exact numbers are difficult to gauge because people come and go. All but one American employed by the embassy have been accounted for, State Department officials said.
Department spokesman P.J. Crowley said there are about a dozen wounded people — embassy staff, American citizens and family members of local embassy personnel — being treated at the embassy or the ambassador's residence for non life-threatening injuries like broken bones. Those who are ambulatory may be evacuated by U.S. Coast Guard helicopter that is expected to arrive shortly, mostly likely from Guantanamo Bay.
The first Disaster Assistance Response Team (DART) from USAID is expected to arrive in Haiti from San Jose, Costa Rica around 1:30 p.m. The team from Fairfax County is expected to arrive around 3 p.m. from Dulles. The USS Comfort hospital ship, which is now berthed in Baltimore, has begun to recall its crew.
Adm. Mike Mullen, chairman of the Joint Chiefs of Staff, said Wednesday that U.S. military personnel worked throughout the night in response to the disaster in Haiti.
"We worked throughout the night to figure out how we can do that and do that as rapidly as possible," Mullen said. "An awful lot of people are working in that direction right now."
Former President Bill Clinton, who is U.N. special envoy for Haiti, said in a statement: "My thoughts and prayers are with the people of Haiti. My U.N. office and the rest of the U.N. system are monitoring the situation, and we are committed to do whatever we can to assist the people of Haiti in their relief, rebuilding and recovery efforts."
Associated Press reporter Pauline Jelinek at the Pentagon contributed to this story.
Filed under:
Accidents and Disasters
Tags:
Baltimore
,
Barack Obama
,
Bill Clinton
,
Caribbean
,
Embassies
,
Emergency Management
,
Haiti
,
Latin America And Caribbean
,
Maryland
,
National Security
,
North America
,
Port-au-prince
,
United States
,
Washington