Chicago Blizzard To Rock U.S.
By Madhusmita, Gaea News Network
Tuesday, February 1, 2011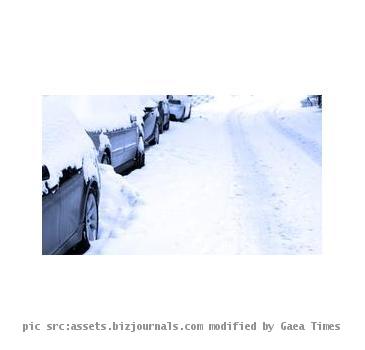 more images
CHICAGO (GaeaTimes.com)- The National Weather Service has issued a blizzard watch from Tuesday afternoon to Wednesday owing to the bad weather condition in Chicago. The officials reported that foot snow is expected along with rough winds of 40-miles-an-hour. The Weather Service officials said that this could be the third worst blizzard in Chicago.
Tom Skilling, meteorologist of a reputed network said that the blizzard could be Chicago's "top tier of snowstorms" and it is one of the biggest in a decade. He said that there could be 17 and 22 inches of snow in Chicago owing to this blizzard. The Governor of Springfield, Pat Quinn has already issued a declaration of disaster for the entire state and has also activated State Emergency Operations Center to take care of the matter and ensure public safety. Moreover, the Governor has called up representatives from more than dozen states to help the citizens during the storm.
On the other hand, Illinois Department of Transportation spokesman Guy Tridgell said that the transport department is ready for the blizzard in Chicago and they have taken the necessary steps to deal with it. He said that the Department of Transportation have plenty of "salt and drivers" to handle to the blizzard. The media outlets reported that this week's session of Illinois General Assembly were canceled because of the impending storm. Chicago Department of Aviation's spokesperson, Eve Rodriguez said that various flights were also canceled owing to the weather condition. U.S. Supreme Court Justice Sonia Sotomayor has also canceled her speech at Northwestern University because of the weather. Meteorologist Tim Ballisty told a reputed media source that the storm may impact one third of the population of United States.