Mount Merapi Erupts Again
By Swatilekha Paul, Gaea News Network
Saturday, October 30, 2010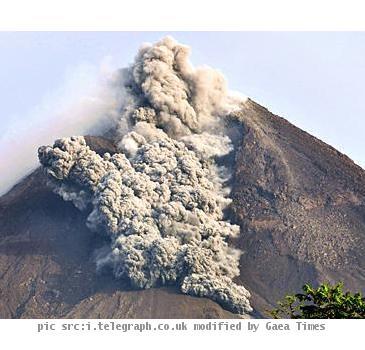 more images
JAKARTA, INDONESIA (GaeaTimes.com)- Its seems unlikely that the havoc due to natural disasters that Indonesia has been witnessing for the last few days is going to end soon. After spewing out hot ash and debris when it erupted earlier this week that claimed as many as 35 lives, Mount Merapi was back in action once again on Saturday as it emanated hot ashes covering an area of ten kilometers along its periphery. The news that Mount Merapi has swung into action once again has been confirmed by Surono, the head of the Centre for Vulcanology and Geological Disaster Mitigation which added that the eruption took place shortly after midnight.
Since Mount Merapi erupted for the first time in four years on Tuesday, it has been active three more times prompting wide scale evacuations in the adjoining areas as people residing along the slopes of the mountain fled to safer locations. While revealing details about the latest eruption, Heru Saparwoko who is an official of the , Volcanology Agency in Yogyakarta has told a reputed media source that the explosion took place at about 00:50 a.m on Saturday spewing out hot lava and debris in the process. However, reports of any casualties due to the latest eruption has not been forthcoming.
Since Mount Merapi gained activity once again on Tuesday, at least 35 people have lost their lives while 40,000 people have been displaced. Mount Merapi is among the most active volcanoes of Indonesia and it is often in news for its seismic activities. The volcano last erupted in the year 2006 in which two people were killed while a 1994 eruption claimed 60 lives.