Indonesian Volcano Affects Barack Obama Visit
By Arnab Ghosh, Gaea News Network
Wednesday, November 10, 2010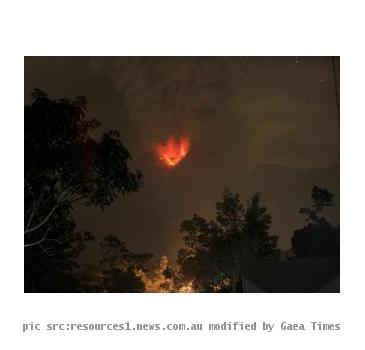 more images
JAKARTA, INDONESIA (GaeaTimes.com)- The continuing eruption of Mount Merapi the Indonesian Volcano is still causing disruptions to international flight operations and it has also prompted the President of USA Barack Obama to cut short his Asia trip. The disruptions are causing the airlines to lose revenue and the fliers are at the receiving end. The death toll has shot up to 191 as the latest reports indicate. More than 300000 people are being forced to live in makeshift camps since the eruption is showing no sign of ceasing. The volcano Mount Merapi which stands for the "Mountain of Fire" is living up to its name. Even though the rate of ash and magma eruption has reduced to an extent some of the airlines like Qantas and Cathay Pacific have canceled their flights.
Cathay Pacific said in its statement in the site that it " will monitor and assess the situation and the possibility of operating flights". The air in Jakarta the capital of Indonesia remained smoggy though the traces of volcanic ash falling was not found. The US President said that the USA will stand by Indonesia since the nation is facing the blow of twin natural disasters. He was compelled to shorten his visit to Jakarta since the chances of volcanic ash affecting the engine of AirForce One are there.
The ongoing eruptions of the Indonesian Volcano Mount Merapi which has a history of erupting and causing havoc has made the residents frightened. The chances of further eruption cannot be ruled out said the volcano experts. The government is on tenterhooks and is monitoring the developments.