Mount Merapi Stalls Flight Operations
By Arnab Ghosh, Gaea News Network
Tuesday, November 2, 2010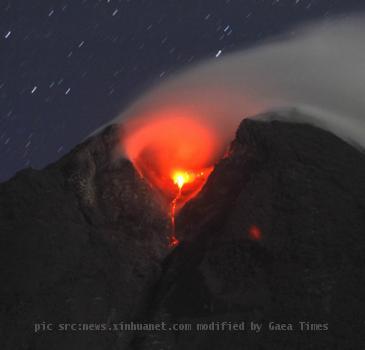 more images
YOGYAKARTA, INDONESIA (GaeaTimes.com)- Mount Merapi, the volcano in Indonesia that erupted a few days back and put the administration on tenterhooks is now giving sleepless nights to airlines that operate in the country. A number of international airlines had to stall their flights to the airports adjacent to the volcano in Indonesia. The cauldron of the volcano is now lit with fiery and molten lava and thick black fumes have covered the sky. The scientists are assuming that the volcano may go on erupting for quite a number of days and the seismic activities would be consistent.
Ever since Mount Merapi started erupting last week, the government of Indonesia is trying to cope with the crisis and move the affected people to safer places. Indonesia which has a population of 235 million people sits on the famous Pacific "Ring of Fire" and hence is vulnerable to volcanoes and quakes. Two adjacent airports have been affected severely by the eruption of the volcano. The runway of the airports have been smeared with thick ash affecting regular flight operations. The visibility has also taken a backseat since the volcano started spewing out thick smoke. Singapore's SilkAir as well as AirAsia, the no frills Malaysia based airline suspended their services temporarily in the airports which are within 25 km of the airports.
The eruptions at Mount Merapi continued on Tuesday. So far the authorities have evacuated almost 70000 villagers living near the slope of the volcano. They have been asked not to return to their homes for another few weeks. President Susilo Bambang Yudhoyono expressed his concern for the affected lot and said efforts are on to provide food and medical aids to them.