Pacific Tsunami Warning Hawaii
By Sayantika, Gaea News Network
Saturday, February 27, 2010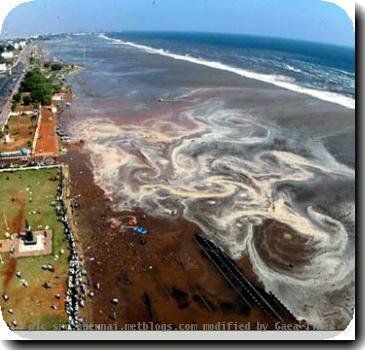 HAWAII, (GaeaTimes.com)- The Pacific Tsunami Warning Center in Hawaii had issued a tsunami warning for Chile and Peru, and also a tsunami watch for Ecuador. The earthquake which struck about 115 kilometers north-northeast of Concepcion around 3:34 am was recorded with an epicenter estimated at 35 kilometers underground. Santiago dwellers reported to be witnessing medium to high tremors for a range of 10 to 30 seconds accompanied by some heavy power outages in certain parts of the city. The Pacific Tsunami Warning Center in Hawaii had also observed a 1.3-meter high tsunami in Valparaiso.
In Tokyo, the Japan Meteorological Agency said it is investigating the possibility of a tsunami reaching Japan and that it had also detected a 1.3-meter tsunami in Valparaiso. Recalling way back in May 1960, a tsunami had hit the coasts of Hokkaido and Sanriku taking a heavy toll of 140 lives.
Yukio Hatoyama, the Japanese Prime Minister has issued an all round awareness, conveying a message to all emergency officials to be ready with all possible measures to combat any situation. The Pacific Tsunami Warning Center has also issued a tsunami advisory for Hawaii. An earthquake with a magnitude of 8.8 was recorded near Chile. However, its remains unknown as to why and how at this very hour the tsunami is being generated. It is unknown at this time if a tsunami has been generated.
The earthquake had occurred offshore Maule, Chile at a depth of 36.9 miles. A far more serious tsunami warning is already being issued for Chile and for Peru. Moreover, a tsunami watch is already in effect for Ecuador.