Coffee Shop In Houston Ravaged By Fire
By Naiwrita Sinha, Gaea News Network
Tuesday, November 2, 2010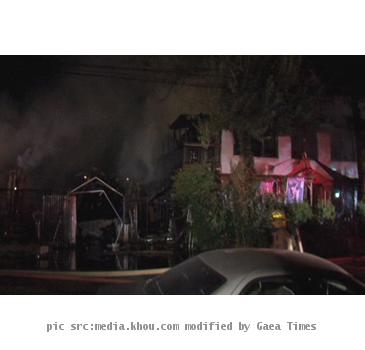 more images
HOUSTON (GaeaTimes.com)- A massive fire broke out in an antique shop in the Montrose area of Houston and quickly spread next door to a coffee shop. The fire broke out early Sunday morning and Agora coffee and wine bar was open at the time. However, the customers were not harmed in the incident as they were able to get out of the shop on time. A policeman patrolling the area saw the blaze and alerted the fire department. It took 13 fire trucks and around a 100 firefighters to fight the three-alarm fire which had turned into a huge blaze by the time they arrived on the scene.
Two of the Houston firefighters were reportedly taken to the hospital after suffering from heat exhaustion. The fire has caused serious but repairable damage to the coffee shop while the antique shop is in an even worser shape. City arson investigators are investigating the incident. The owner of the antique shop, Gordon Greenleaf was not even aware of the fire for several hours as he was asleep after having volunteered for a Halloween event. He was rattled to hear of the loss. It is being estimated that the coffee shop will require around two months time to get back on its feet.
Agora coffee and wine bar was one of the favorite places for youngsters. The place was popular both for its affordability and for its ambience. Many people came there to work in a comfortable atmosphere or for having a good time with friends. The incident has left all the people who frequented the coffee shop rather disappointed and they are desperately hoping that the popular joint would be back in action soon.