UN says millions without assistance in Pakistan floods as possible malnutrition looms
By Ashraf Khan, AP
Tuesday, August 17, 2010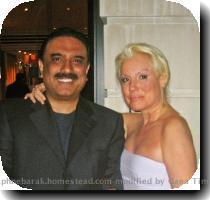 more images
UN says millions without help in Pakistan floods
SUKKUR, Pakistan — The World Bank said Tuesday it will redirect $900 million of its existing loans to Pakistan to help in flood recovery, as the U.N. warned that many of the 20 million people affected by the disaster have yet to receive any emergency aid.
The floods began three weeks ago but the crisis could yet worsen, with authorities warning that the swollen Indus River may burst its banks again in coming days.
Pakistan's shaky government has been sorely tested by the disaster, which has affected about a fifth of the area of the vast country of 170 million people. It comes atop a pile of other challenges including a weak economy and a violent Islamist insurgency.
Pakistani President Asif Ali Zardari acknowledged Tuesday that the government had responded poorly to the widespread flooding. Zardari's reputation sank to new lows after he chose to visit Europe as the crisis was unfolding.
"Yes, the situation could have been better. Yes, the arrangements could have been made better. Yes, everything could have been better. Alas! If we could have those resources," he told local aid groups in a meeting. "We have to move forward despite whatever criticism we get."
Local charities and international agencies have rushed food, water, shelter and medical treatment to the worst-hit areas in the northwest and Punjab and Sindh provinces. But aid agencies and the British government have complained that the international response to the disaster has not been generous enough.
The U.N. appealed last week for $459 million for immediate relief efforts. It has received 40 percent — about $184 million — of that so far, said Maurizio Giuliano, a U.N. spokesman. An additional $43 million has been pledged.
"We would like our pledges to turn into checks as soon as possible because the situation is getting very bad," Giuliano told The Associated Press.
The World Bank said the funds it is offering are to help Pakistan recover from the floods and would be redirected from ongoing and planned projects in the country. With huge destruction of roads and bridges and crops wiped out in many areas, authorities expect reconstruction to take years and cost billions.
For now, many victims are living in makeshift camps alongside their livestock or in flooded towns and villages.
"The vast geographical extent of the floods and affected populations meant that many people have yet to be reached with the assistance they desperately need," the U.N. said in a statement. It also said the number of children and breast-feeding mothers affected and rising diarrhea cases "point toward a clear risk of malnutrition among the affected population."
The floods have killed about 1,500 people and inundated 1.7 million acres (700,000 hectares) of wheat, sugar cane and rice crops, raising the prospect of food shortages in the coming months in the already-poor nation. Prices of food have risen sharply since the floods began.
Authorities in Sindh province said more floods were likely over the next 24 to 48 hours. "The next two days are crucial for the safety of people," said Sindh's irrigation minister, Jam Saifullah Dharejo.
Anne Patterson, the U.S. ambassador to Pakistan, said Tuesday that America had committed at least $87 million in aid and expected to give more in the coming days. More U.S. helicopters are expected to join the 19 already dispatched to help ferry stranded Pakistanis and deliver food and other items, U.S. officials said.
Patterson said it was too soon to fully understand the scale of the disaster, including its impact on the Taliban and al-Qaida-led insurgency on Pakistani soil. But she downplayed concerns that Islamist extremists are winning flood victims' support through their own relief activities.
"To be blunt, I think these stories about extremist organizations being the only players out there are greatly exaggerated," Patterson told a news conference in Islamabad.
Associated Press Writer Nahal Toosi in Islamabad contributed to this report.
Filed under:
Accidents and Disasters
Tags:
Asia
,
Asif Ali Zardari
,
Emergency Management
,
Floods
,
Foreign Aid
,
Islamabad
,
North America
,
Pakistan
,
South Asia
,
Sukkur
,
United States