Polish president, first lady interred in Krakow amid new hopes for thaw with Russia
By Vanessa Gera, AP
Sunday, April 18, 2010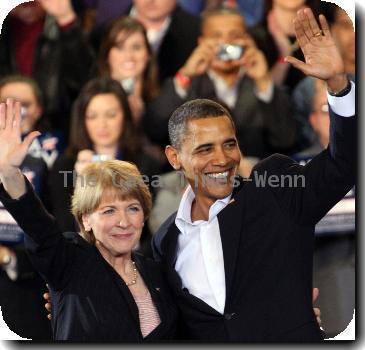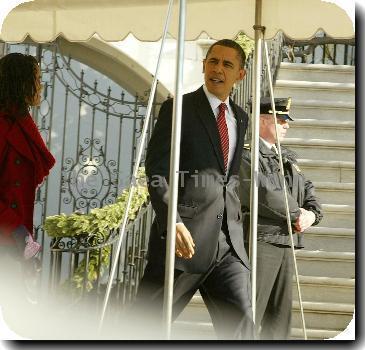 Polish leader buried in ceremony of patriotism
KRAKOW, Poland — Tens of thousands of Poles bade farewell to President Lech Kaczynski on Sunday at a state funeral filled with pomp, pride and an outpouring of patriotism that his divisive and unpopular leadership had never generated.
Mourners applauded and chanted "We thank you!" as the caskets bearing Kaczynski and his wife, Maria, were carried slowly past pale-toned Renaissance buildings for burial among kings and poets in the ancient Wawel Cathedral.
"Poles finally appreciate him," said Ryszard Stolarski, 56, one of many weeping mourners. "I never imagined that Poland would honor Kaczynski in this way."
Many world leaders, including President Barack Obama, could not be there because their travel plans were wrecked by the enormous plume of volcanic ash that blanketed Europe.
The funeral came eight days after the Polish air force Tupolev 154 crashed on approach to Smolensk, Russia. The worst tragedy to strike Poland since World War II killed the first couple and 94 other people, including top civilian and military leaders.
In some ways the tragedy, and Russia's response to it, appear to have begun the long process of finally healing wounds that have soured the two nations' relations for decades.
Kaczynski, a lifelong skeptic of Russia and fervent anti-communist dissident, had focused on building closer ties to the United States, advocating for a U.S. missile defense base in his country. But even as president he sometimes pushed diplomacy aside to sharply criticize Russia.
Yet since the plane crash Kaczynski has become an unwitting catalyst for new words and gestures of trust between the long-divided Slavic nations.
Kaczynski's fatal flight, which investigators have said was likely caused by pilot error, was meant to take him to a memorial for 22,000 Polish officers murdered by Stalin's secret police in 1940, killings known as the Katyn massacres and intended to wipe out Poland's brightest and best.
The patriotic Kaczynski wanted to honor them and push Moscow to do more to acknowledge the Soviet crimes, which Moscow had blamed on Nazi Germany during the communist era, a cover-up often known as the "Katyn lie," and given little attention since.
After the plane crash, Kaczynski's body was recovered by Russians. The normally stoic Russian Prime Minister Vladimir Putin set the tone with an outpouring of emotion. And during Sunday's Roman Catholic funeral Mass, a Russian Orthodox priest also prayed over the caskets.
And though many world leaders, including Nicolas Sarkozy of France, were kept away by the travel chaos caused by Iceland's volcano, Russian President Dmitry Medvedev arrived on a jet to pay his respects at the state funeral in the 13th-century St. Mary's Basilica.
Poland's acting president, Bronislaw Komorowski, told the congregation during the lavish state funeral for the first couple that Kaczynski's death has created hope that "we will all know the truth about the Katyn massacre."
Krakow Archbishop Stanislaw Dziwisz acknowledged those new ties, saying the tragedy had given rise "to many layers of good between the people and nations."
"The sympathy and help we have received from Russian brothers has breathed new life into a hope for closer relations and reconciliation between our two Slavic nations," Dziwisz said. "I direct these words to the president of Russia."
It was Medvedev's first visit to Poland, and before returning home he declared that the two nations are taking a "step into the future."
"Tragedies can bring out difficult emotions, but very often they bring people closer and I believe that that is what the residents of my country and Poles need," Medvedev said.
The rhetoric wasn't always so conciliatory.
In particular, during the 2008 war between Russia and Georgia, Kaczynski had made it clear that his loyalties were with Georgia and its president, Mikhail Saakashvili.
During the conflict he traveled to Georgia and at a mass rally accused Russia of wanting to return to the "old times" of dominating the region. "Our neighbor thinks it can fight us. We are telling it no," Kaczynski told the rally alongside the leaders of Lithuania, Latvia, Estonia and Ukraine, all former Soviet republics.
He later declared Russia's policy "imperialist and revisionist" in a joint statement with the Baltic countries.
Those words appeared forgotten Sunday, as did Kaczynski's more combative positions. He was a conservative nationalist, winning the hearts of many older Poles and war veterans. But the younger generations often found him excessively fixated on the past and accused him of harming relations with both Germany and Russia with his focus on Poland's old wounds.
But the way in which he died — his Tupelov 154 crashing in heavy fog with a swath of country's elite aboard — provoked profound grief and a sudden surge of admiration.
"Kaczynski had good and bad qualities, but now you shouldn't say anything bad about the dead," said Karolina Rajchel, 19, a student who traveled five hours from Wroclaw to join the 150,000 others packing Krakow's streets.
"I am here to honor the president as well as all those who died," she said.
Those who long supported Kaczynski saw the outpouring of grief and respect toward his memory as a sign that the broader society was finally coming to appreciate him.
Before he died, his most recent opinion polls showed him with around 25 percent support, meaning he faced an uphill battle to get re-elected this autumn.
New elections must be held in June, and politicians on Monday are expected to start looking toward that balloting, now that eight days of official mourning will have passed.
One big unknown centers on who will represent Kaczynski's Law and Justice party in the election, with some observers speculating that his twin brother Jaroslaw, a former prime minister, may run in his stead.
Izabella Bruchal, a wheelchair-bound engineer who watched the Mass on one of two huge video screens in a large grassy field just beyond Krakow's Old Town, said she was happy to get a degree of closure with Sunday's funeral though said the pain would not go away quickly.
"It's been horribly difficult with the coffins coming back over several days this week — it was a nightmare. It was necessary to bury the dead president and now I feel some relief," Bruchal, 59, said as her son wheeled her off the field when the funeral ended. "But the mourning is not over. We will grieve a long time."
After the Mass, the bodies of the first couple were carried atop a pair of artillery caissons pulled by army Humvees in a funeral procession led by the archbishop, clergy in purple robes and soldiers across the picturesque old town and up the Wawel hill, where a fortress wall encircles a castle and a 1,000-year-old cathedral overlooks the Vistula River.
As they made their way down the nearly mile-long (1.6-kilometer-long) route, the crowds waved Polish flags, clapped and chanted: "Lech Kaczynski! We thank you!"
Twenty monks rang the massive Zygmunt Bell inside the Wawel Cathedral, its pealing echoing across Krakow.
The first couple were interred together in a honey-hued sarcophagus made from Turkish alabaster in a crypt under the cathedral's Silver Bells Tower. Afterward, a battery of cannon fired 21 volleys, smoke pouring from their barrels as mourners watched.
The decision to bury Kaczynski at Wawel sparked protests in recent days, with some people saying that despite the national tragedy he still does not belong in the company of some of the nation's most august figures. The hue and cry over the decision even spilled over to Facebook where thousands said the decision was not right.
Wawel's crypt is the final resting place for numerous Polish kings and statesmen. Among those there are Gen. Wladyslaw Sikorski, the exiled World War II leader who died in a mysterious plane crash off Gibraltar in 1943; Jozef Pilsudski, who led Poland from 1926 until his death in 1935; Romantic-era poet Adam Mickiewicz; and Tadeusz Kosciuszko, a hero of the American Revolution and of Poland's 1794 uprising against Russia's occupation.
Associated Press Writers Monika Scislowska in Warsaw and Marta Kucharska in Krakow contributed to this report.
Filed under:
Accidents and Disasters
Tags:
Accidents
,
Artillery
,
Barack Obama
,
Eastern Europe
,
Europe
,
Facebook
,
Funerals And Memorial Services
,
Georgia
,
Krakow
,
North America
,
Poland
,
Russia
,
State Funerals
,
Transportation
,
United States
,
Vladimir Putin