Splendor Cruise Ship At San Diego
By Arnab Ghosh, Gaea News Network
Friday, November 12, 2010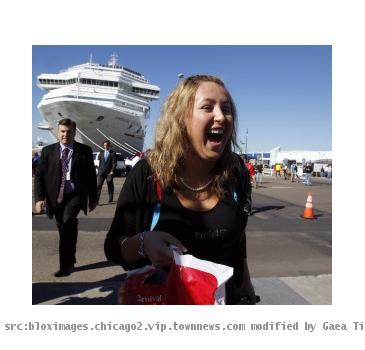 more images
SAN DIEGO (GaeaTimes.com)- The disabled cruise ship Carnival Splendor which caught fire on Monday morning and subsequently became immobile near the coast of Mexico has been brought to San Diego port, says the latest update. The passengers finally breathed a sigh of relief after staying without many facilities for three days at a stretch. The machine room of the luxury cruise liner had caught fire and it stalled its movement and also jeopardized power supply. The crew of the ship worked on war footing to restore essential services. The passengers had to cut down on food and had to stay without air conditioning for the time. When the fire broke out on Monday the ship was almost 200 km away from the San Diego port.
The engine could not be put back into normalcy in Carnival Splendor. Therefore six tugboats fetched the cruise ship to San Diego and during the rescue a number of coast guard vessels accompanied the huge ship. USS Ronald Reagan supervised the supply of food to the ship. The carnival Cruise officials handled the situation carefully and they tried to ensure that the passengers remain safe. The Cruise line said that it will pay refund to the passengers. They also said that the ship's passengers will be given a gift voucher so that they can avail an alternate tour later.
The passengers of the stranded Carnival Splendor cruise ship which was rescued by Tug boats said that they did not face any major problems but had to put up with limited food. However, they said the trip was not very bad.