Carnival Splendor Hit By Fire
By Arnab Ghosh, Gaea News Network
Tuesday, November 9, 2010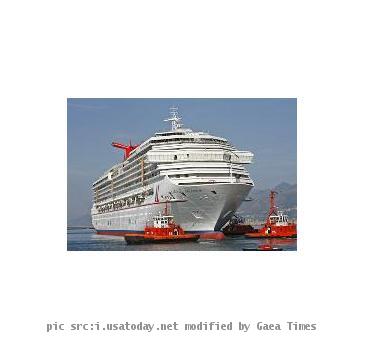 more images
COAST OF MEXICO (GaeaTimes.com)- The mighty Carnival Splendor which is the Carnival Cruise Lines's largest ship till date caught fire in the morning and the huge ship went powerless after that. It became motionless on the sea for a long time adjacent to the Coast of Mexico. The fire took its toll on the main generators of the ship and that led to the power breakdown. Thankfully no passenger in the ship or its crew members were hurt by the fire, as per the reports. The ship authorities swung into damage control mode swiftly and they asked the onboard passengers to get out of their cabins and gather at the Lido deck. They were later told to return to their cabins when the situation was brought under control. The weather was more or less pleasant and the sea waves were not turbulent either. The US Coast guard kept in touch with the cruise liner's command.
Carnival Splendor started its 7 day long voyage which began at California's Long Beach. The ship has over 3200 passengers as well as 1167 crew members. The ship will not carry on with this voyage as the authorities have said. When the crew members are able to restore power to the ship it will reach its home port at California. They are working hard to get things back into place. The authorities have not taken any chance and they have also arranged for tugboats for safety of the passengers and the crews.
Carnival Splendor passengers had to stay without air conditioning and hot food after the power conked off. Gerry Cahill who is the Carnival Cruise Lines CEO and president said that the passengers will be compensated.