Carnival Cruise Fire Tragedy Ends
By Arnab Ghosh, Gaea News Network
Wednesday, November 10, 2010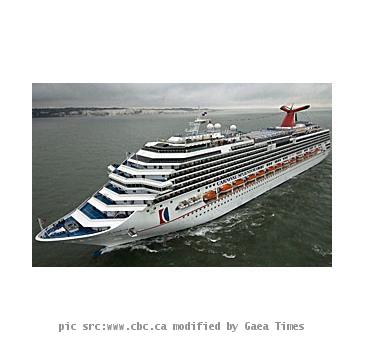 more images
MEXICO (GaeaTimes.com)- The carnival Splendor which was hit by an engine room fire on Monday morning and came to a standstill near the coast of Mexico for hours is finally getting relief and the passengers are a relieved lot now. The fire resulted in power failure and the ship could not move for long. The crews were able to keep basic things running on emergency generators. The stranded cruise ship is being shifted to San Diego with 4500 people on board. The US Coast guard officials said that a second tug ship has joined the rescue operations. An aircraft belonging to the U.S. Navy supplied the stranded ship with food and essential supplies. The choppers of the US navy were used to take relief material and food from the USS Ronald Reagan for a number of times.
The passengers of the stranded Carnival cruise ship were happy when they saw help arriving from outside. They were not much worried as the ship management told them that they were not in danger. It is expected that the cruise liner will reach San Diego by Tuesday night. The passengers will not face any problem after reaching the port since flight and accommodation have been arranged for them. The cause of the fire that caused the stalemate is yet to be found out said the Cruise liner management in a statement.
The fire in the Carnival Cruise ship was controlled and extinguished fast and no injury was reported. The crew of the ship succeeded in restoring cold water and toilet services to the cabins of the ship in most of the cases.