Hurricane Igor Hits Bermuda
By Reema, Gaea News Network
Monday, September 20, 2010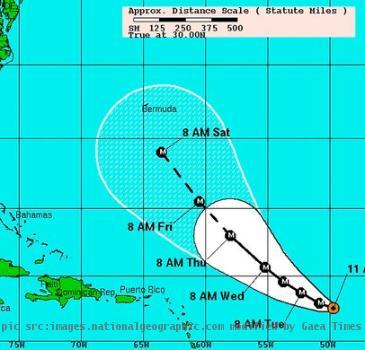 more images
HAMILTON (GaeaTimes.com)- Late on Sunday, the fierce Hurricane Igor struck the shores of Bermuda with a maximum sustained winds nearing round 120 kilometers per hour. Although through the week, Hurricane Igor slid from category 4 storm to Category one, on Sunday with U.S. based National Hurricane Center reporting the gust of wind to be near 93 miles per hour, it was enough to threaten the coastal resorts and homes in Bermuda. Hurricane Igor struck with not only heavy winds but also rain that flooded many coastal areas.
Hurricane Igor that took shape earlier last week was gaining intensity rapidly and forecasters had feared that it could have become one of major hurricanes hitting the shores. However, as it progressed towards the chain of Atlantic Islands, its intensity and maximum sustained win speed decreased and on Saturday the forecasters labeled it as Category 1 hurricane with maximum sustained speed nearing round 120 kilometers per hour. The forecasters had also predicted around nine inches of rain. Late on Sunday as the intensity of storm increased, stores were shut down and people kept inside their houses. Many residents of the coastal area shifted to safe locations.
The heavy winds of Hurricane Igor flattened many palm trees and poles which blocked the roadways. The Police department reported that it had received several phone calls from residents regarding the power failure and road blocks. However, as of yet no injury reports due to Hurricane Igor has been received. All flights to and from the LF Wade International Airport were canceled and it would remain the same until Tuesday morning reportedly. David Burch, the interior minister of Bermuda said that Hurricane Igor might rival the impact of Hurricane Fabian which struck the nation back in 2003.