Konark Hotel Bangalore Fire Under Control
By Arnab Ghosh, Gaea News Network
Monday, April 12, 2010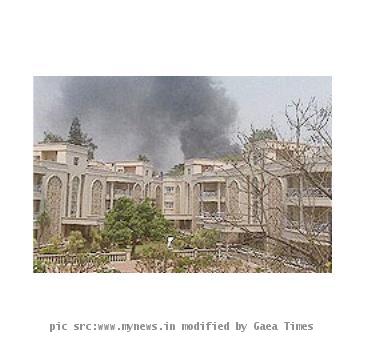 more images
BANGALORE, INDIA (GaeaTimes.com)- Today a fire erupted at Konark Hotel on Residency Road in Bangalore. The fire most likely started at the hotel's NYK pub. It is in Gold Towers building's 5th floor. However, no death or injury owing to the fire has been reported so far. The police said that as many as 14 fire tenders were engaging to douse the flames. G Ramesh, the Deputy Commissioner of Police said that the fire started around 2 p.m. He said that the fire will not spread as the fire tenders started battling it early. It is being suspected that the storage of inflammable material at the rooftop led to the spread of the fire. However, a through probe will be carried out later.
Before the Konark Hotel, another major fire broke out at Carlton Towers of Bangalore. It proved to be quite serious and claimed 9 lives, 59 people were injured in that incident. While the fire brigade personnel were engaged in dousing the flame at the Konark Hotel, the police acted swiftly and helped in evacuating the building as soon as possible. They also kept the adjoining roads clear so that the fire tenders do not have any difficulty in reaching the spot. The fire brigade suffered losses at the Carlton Tower fire on Feb 23 and this time they did not make any mistake.
The Konark Hotel fire in Bangalore destroyed a shed but the total amount of damage is yet to be known. This is an instance where prompt action of police and fire brigade helped in avoiding disaster and casualty.