Boulder Plane Crash: Mid-Air Plane Collision, 3 Killed (Video)
By angsuman, Gaea News Network
Saturday, February 6, 2010
BOULDER, Colo. — A small plane clipped the towline of another plane pulling a glider at about 1:30 pm Saturday about 2 miles north-west Boulder Municipal Airport , sparking a fiery midair crash in Colorado and killing at least three people, according to authorities.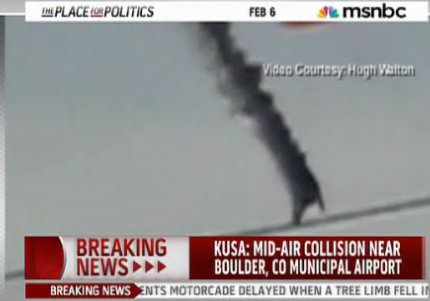 The glider disconnected from the plane just before the second plane hit the tow rope, Boulder County sheriff's office spokesman Rick Brough said.
Fortunately the glider landed safely — with no injuries to any of the three people on board — just after the planes made impact, authorities said.
"We understand the glider went through a fireball after the impact," Rodi said.
Brough said one of the planes, a Piper Pawnee, belonged to Mile High Gliding Inc. and had just taken off from the Boulder airport with the glider in tow shortly before the accident happened.
Three fatalities have been confirmed.
You can get more details from AP article: Authorities say small plane collides with plane that was towing glider in Colorado; 3 die
Witnesses reported hearing an explosion, and then seeing one of the aircraft plummet to the ground with a parachute attached. Wreckage was scattered in several locations, spread over at least over 50-60 acres.
Here is MSNBC's Video on the Boulder plane crash: