Typhoon Chaba Approaches Japan
By Swatilekha Paul, Gaea News Network
Friday, October 29, 2010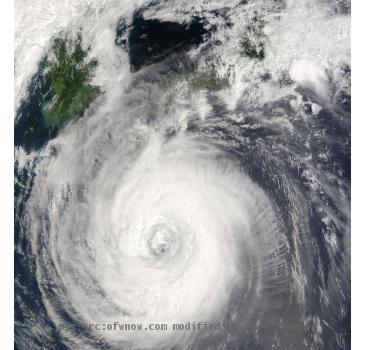 more images
TOKYO, JAPAN (GaeaTimes.com)- With Typhoon Chaba gradually making its way towards Japan, authorities have ordered widespread evacuations while alert warnings have been issued to minimize devastation to a large extent. According to the Japan Meteorological Agency, Typhoon Chaba was centered at a distance of 150 kilometers along the southwestern direction of Amami islands with wind speeds of 144 kilometers per hour near its epi-center. Weather officials have further stated that the typhoon was shifting along the northeast direction along Japan's Pacific coast while following a track that would enable it to strike the capital region over this weekend.
Typhoon Chaba is expected to make a landfall at the Honshu island of Japan on Saturday although it has lost considerable strength, weather officials have revealed. It has been reported that in the Amami islands, around 19 flights have already been canceled from its main airport which has affected as many as 390 passengers. At the same time, an estimated 290 residents of the island have been moved to safer locations while the island has also been put under high alert against landslides after the heavy rains that the regions has been witnessing for the last few days.
The torrential rains and strong winds that Typhoon Chaba has brought along with itself has managed to whip up high waves in the Japanese island, although any reports of any kind of damage or loss of lives has not been reported as yet. An Amami City officials has urged residents to remain under high alerts to minimize damage as long as Typhoon Chaba does not leave the area completely. The official confirmed that any additional damage has not been reported till now.