Underground odyssey: Chile miners defied the odds
By Veronica Sardon, IANS
Wednesday, October 13, 2010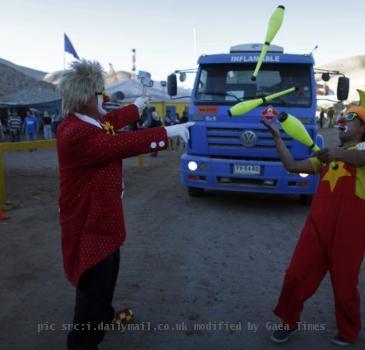 COPIAPO - The miners who began emerging late Tuesday after 69 days underground in northern Chile surprised and delighted the world with their unlikely survival.
Even as the men were being hauled up in large cages, in a painstakingly slow and meticulous process, some were looking back on the miraculous story of how 33 men survived the first 17 days with little fluid and even less food, trapped 700 metres underground - and how they fared once the first primitive shaft reached them.
The miners had nearly been given up for dead after a collapse in the copper mine trapped them Aug 5. Yet rescuers persisted for weeks with drilling.
Maybe, just maybe, there was a chance someone had survived.
Then suddenly, on the 17th day, the breakthrough came. The precision-targeted shaft - not much wider than a man's closed, flattened palm - had reached a safety chamber underground.
There was a dramatic, silent pause.
Then a cheer went up as the note arrived, attached to a probe that had been lowered: "All 33 of us are well in the shelter."
The news electrified the rescuers, and sent whoops of excitement around the world: the 32 Chileans and one Bolivian were still alive.
From that moment Aug 22, the amazing story unfolded, piece by piece.
They were alive because they were well organised, thanks to leadership from shift boss Luis Urzua, 54, and other mining veterans, like former merchant sailor Mario Gomez, 62.
For 17 days, through the "hell" of constant darkness, high humidity, in 35 degrees Celsius, they devised tools and routines that kept them alive, sane and relatively healthy.
There were wake-up calls, a bite of tuna and a gulp of milk every 48 hours and a set of dominoes to kill time. Oxygen was not a problem through natural ventilation, and they did not need the tanks stored in the safety shelter.
Food was the first request. They had dwindled to shadows of their former selves.
"Under this sea of rock, we are expecting all of Chile to pull hard so that we can be taken out of this hell," Urzua told Chilean President Sebastian Pinera.
Soon, there was a routine. "Palomas" or pigeons - 1.5-metre transport tubes lowered on pulleys - delivered every essential and even non-essential item that would fit in the 10-cm wide shaft, except alcohol.
Communications, power and water lines were installed, live football games transmitted. Astronauts and psychologists counselled them on coping with isolation and trained them to deal with the onslaught of publicity and maybe money for their stories when they
emerge.
Letters to family came back, along with dirty laundry.
"When I get out, we'll buy the wedding dress and we'll get married in a religious ceremony," Esteban Rojas promised his partner Jessica Yanez.
After 25 years, they have children and grandchildren but no marriage license. Relatives say Rojas, 44, must have felt the disaster coming, because he gave Children's Day presents to his children ahead of time, the day before the collapse.
Luxury goods like state-of-the-art iPods went down, courtesy of Apple founder Steve Jobs, along with the shirt of Spain goalscorer David Villa, a son and grandson of miners.
There were video conferences and video recordings of their life in the depths, until they decided to stop broadcasting because they did not want to become a reality show.
For those who were not veterans of the tough mining industry - like Bolivian Carlos Mamani, 23, on his first day of work as a miner - the collapse and ensuing isolation were particularly challenging.
For Raul Bustos, 40, Chile's year of disaster followed him wherever he went. He lost his job as a mechanic in Talcahuano in the February quake in central Chile, then tried his luck as an outside driver for the copper mining operation in the north.
He was inside Aug 5 to repair a broken truck.
On the surface, life went on. Relatives of the miners set up Camp Esperanza (Spanish for "hope") by the mine entrance, enduring sizzling daytime heat and night-time chill of the Atacama desert.
The miners' request for cigarettes and alcohol prompted a media debate on whether some were alcoholics. Cigarettes were eventually allowed, but the workers never got alcohol.
The wife of Ariel Ticona, 29, gave birth to his third child - a girl who was appropriately named Esperanza.
Another miner, Mario Sepulveda, celebrated his 40th birthday and started a possible new career: Acting as presenter in the miners' videos of life underground, he has become a favourite of Chilean television, and programmes looked forward to having him on their sets after the rescue.
San Esteban, the San Jose copper mine owner which has a poor safety record and failed for hours to report the collapse, declared itself bankrupt and said it could not guarantee wages for the duration of the ordeal. The Chilean government paid the rescue costs, which at one point included three large drills.
For some, pending troubles after rescue may not stop at financial issues. For four miners, the ordeal meant awkward mine-side encounters between wives and lovers, and offspring who had not previously met.
Some joke that Yonni Barrios, 50, hardly wants to see the sunlight at all.
"He loves me!" Barrios' lover shouted at reporters and security officers by the entrance to the mine.
"That woman has no legitimacy," the miner's wife shouted back.