Hurricane Paula Attains Strength
By Swatilekha Paul, Gaea News Network
Wednesday, October 13, 2010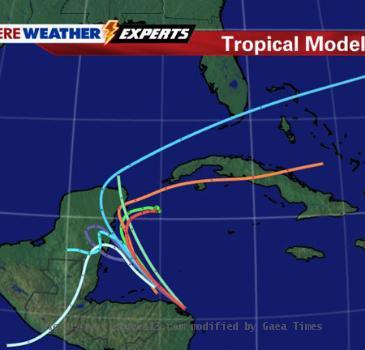 MIAMI (GaeaTimes.com)- Tropical storm Paula has gained the strength of a hurricane, the Miami-based United States National Hurricane Center has confirmed. The storm is reported to have attained force on Tuesday which might trigger heavy rains in the western part of Cuba from Wednesday evening, weather officials have stated. Before making its way into Cuba, Hurricane Paula is expected to trigger adverse weather conditions in the Yucatan Peninsula with its center lying at a distance of 230 miles southeast of Cozumel, Mexico turning into the ninth hurricane of the Atlantic season of this year.
In the view of the threat that Hurricane Paula is posing to parts of Mexico, a state of emergency has been declared by the government so that the damage that would be caused by the unfavorable weather conditions can be minimized. While talking to reporters, Felix Gonzalez, the governor of the Mexican state Quintana Roo revealed that the parts of Cozumel, Isla Mujeres and Lazaro Cardenas have been put under orange alert as they are the closet to the track that is likely to be followed by Hurricane Paula. In the meanwhile, weather officials in Mexico have reiterated that slight strengthening of the storm might take place on Wednesday before the storm moves over to Cuba.
According to the United States National Hurricane Center, Hurricane Paula would gain more mileage as it deviates its path towards Cuba in the upcoming days of the week. However, if the storm indeed manages to adversely affect parts of Mexico, officials might have to deal with double trouble after recent heavy rains have already wrecked a havoc in many regions.