Hungary Sludge Causes Mayhem
By Arnab Ghosh, Gaea News Network
Wednesday, October 6, 2010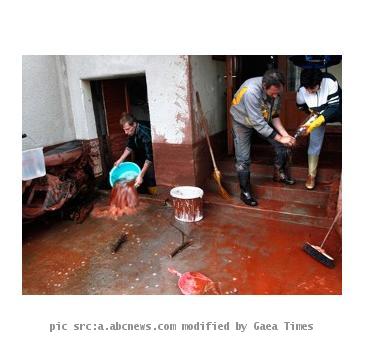 more images
KOLONTAR, HUNGARY (GaeaTimes.com)- On Wednesday Hungary announced a state of emergency after a toxic sludge wave ravaged 7 villages and the officials described it as the country's worst ever chemical accident. As per the latest update, 40 square kilometers area has been severely affected by the toxic sludge. The officials are now fearing that the toxic waste can reach the adjacent Danube River. The sludge can each the river within a few days. The tide of sludge have killed 4 people so far and 120 others have been injured. The officials are apprehensive that the death toll could go up since six people are missing and some of the injured are battling for their lives.
The environment ministry of the Hungary has said that the water quality in Danube in Romania is being checked round the clock to detect any significant deterioration in the level of polluting materials. The sludge which is a waste material in aluminum production has toxic metals and can have fatal consequences ingested by humans. Some of the injured lot suffered burnt skins after they came in the way of the sludge. The doctors have warned that the injuries caused by contact with the toxic waste may appear less threatening than they appear.
The government in Hungary is on tenterhooks as anyone can understand after the incident. Till now 35.3 million cubic feet of toxic sludge has got leaked from a reservoir and wrecked havoc in the affected region. The activities the plant has been put on hold for now and the company has been ordered to repair the damaged reservoir.