Scientists say heavy metal in sludge not dangerous
Hungary: Toxic red sludge has reached the Danube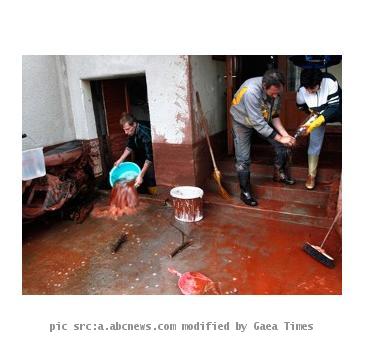 more images
NATO claims insurgent captures; 2 Romanians killed
France's explusions of Gypsies dominates EU summit
Romanian nurse arrested after maternity fire
Romania, Bulgaria have EU's sickest health systems
Israeli doctors in Romania to help burned newborns
Israeli doctors in Romania to help burnt newborns
4th baby dies in Romanian hospital blaze
BUCHAREST, Romania — A fourth baby died Tuesday and seven remained in critical condition following a fire at a Bucharest maternity hospital that the health minister called "one of the darkest tragedies" in Romania's health system.
BUCHAREST - Three infants were killed and eight others seriously injured Monday when a fire broke out in a Bucharest gynaecology and obstetric clinic, local reports said.
Plexus confirms fire in Romania factory
NEENAH, Wis. — Electronic manufacturing services company Plexus Corp. said a fire broke out in one of its two factories in Oradea, Romania.
7 crew reported dead in Israeli chopper crash
7 crew reported dead in Israeli copter crash
Wreckage of Israeli helicopter found in Romania
Israelis to help search for downed helicopter
Report: 4 bodies found at Romania crash site
Officials: Israeli helicopter crashes in Romania
Copter with 6 Israeli soldiers crashes in Romania
Romania: deaths in military plane crash rise to 12
10 dead in military plane crash in Romania
Rising Danube threatens Romanian city
BUCHAREST, Romania — Romanian authorities were stacking sand bags Monday along a 4.5-kilometer (2.8-mile) dike to prevent the river Danube overflowing its banks and flooding the city of Galati.
12 dead, 2 missing in floods in Romania
BUCHAREST, Romania — Torrential rains and heavy flooding have left 12 dead and two missing in northeastern Romania, authorities said Tuesday.
10 dead, 3 missing in floods in Romania
BUCHAREST, Romania — Authorities say ten people have died and three are missing after heavy rains and flooding in northeastern Romania.
Taliban claims killing of Afghan prison official
Volcano illustrates world's interconnectedness
NATO commander makes televised apology to Afghans
NATO commander takes apology direct to Afghans
Bombs kill 2 in Afghanistan; rocket hits base