Oil Rig Explosion Off The Louisiana Coast
By Reema, Gaea News Network
Friday, September 3, 2010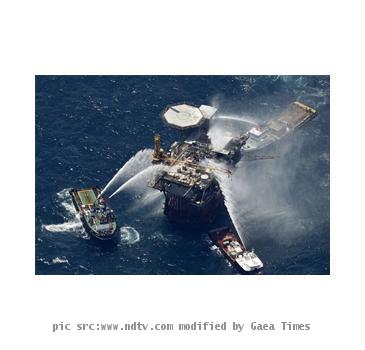 more images
NEW ORLEANS (GaeaTimes.com)- On Thursday an oil rig off the coast of Louisiana caught fire and triggered fear of a repetition of the British Petroleum's Deep Horizon oil spill that had jeopardized the marine life and the lives of thousands of coastal area residents. Coincidentally the blast took place at about 200 miles west of the site where the British Petroleum's blast took place on April. Although initial reports claimed that oil sheen of 1.6 kilometers long and 100 feet wide had begun to spread from the site of the blast, the Coast Guard Cheri Ben-Iesau said to media sources that the crew was not able to locate any kind of the oil spill from the site. The cause of explosion is not yet known and the Houston based Mariner Energy Company that owns the oil platform said that it does not known what led to the sudden blast at the oil site.
Around 13 crew members aboard the oil rig where the blast took place were rescued unharmed. The coast guard crew found the 13 oil rig platform crew members floating in the water huddled together. They were wearing "Gumby suits" to save themselves from the fire and were immediately flown to a hospital in Houma, Louisiana for medical attention.
The location of the oil rig where the explosion took place is considered shallow as it lies in about 340 feet (103 meters) of water and about 100 miles (161 kilometers) south of Vermilion Bay coast of Louisiana. Although fear mounted on Thursday that the explosion might take the horrific shape of British Petroleum oil spill, analysts mentioned that it is easier to respond to a shallow water oil spill than to a deep water oil spill. However, the company maintains that although there has been blast at the platform, it has not resulted in any kind of spill.