Hurricane Danielle Subsides
By Swatilekha Paul, Gaea News Network
Saturday, August 28, 2010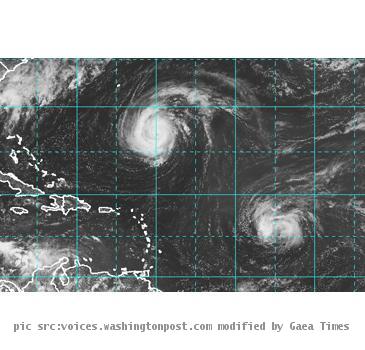 more images
MIAMI (GaeaTimes.com)- Despite the predictions by forecasters that Hurricane Danielle was heading towards Bermuda and was likely to result in rip currents across the East Coast of United States, on Saturday it was revealed that the hurricane has lost strength and consequently has been downgraded to Category 2. The Miami-based National Hurricane Center confirmed today that Hurricane Danielle has weakened and had also moved away from Bermuda in the northern direction.
According to the National Hurricane Center, Hurricane Danielle is expected to lose significant amount of momentum over the weekend and within the next 24 hours, it does not seem probable that the storm would show any major changes in terms of strength. The news comes as a huge relief as on Friday it was forecast that the storm had a maximum sustained speed of 135 miles per hour and was slotted in Category 4. Consequently, a tropical storm alert had been issued in Bermuda following the predictions of the National Hurricane Center. However, the large waves and the surf conditions are likely to remain unaffected due to the weakening of Hurricane Danielle.
Hurricane Danielle is the second hurricane of this year's Atlantic season and the list is likely to continue. The next in the line is likely to be Tropical Storm Earl who is gradually becoming a cause of concern as weather officials have predicted that it would gain the status of a hurricane by late Saturday. Earlier this year in the month of June, Hurricane Alex made its presence felt across Central America as well as Mexico claiming as many as 12 lives.