Air Pocket Ruins Return Flight
By Sayantika Ghosh, Gaea News Network
Sunday, April 25, 2010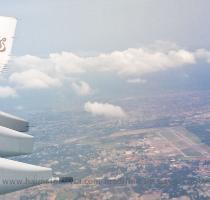 KOCHI, INDIA, (GaeaTimes.com)- Emirates Flight services witnessed its passengers in a panic stricken phase when the airplane got trapped inside an
air pocket
of 15000 feet. The
air pocket
made the airplane lose its balance in the higher altitudes which ultimately made it steep down all the way in its flight from Dubai to Kerala.
The whole incident took place in the morning hours (7.00 AM) as the flight was in its midway journey nearing Kochi. Passengers on board witnessed heavy ruckus as some of them were dislodged from their seats and some hit their head in the airplane roof. Reportedly, when the plane fell into the air pocket of a downward current of air, it was 60 miles away from Kochi airport.
However, the pilot steered the airplane right away from the air pocket and managed to land at the Kochi airport. Coming out of the air pocket was a moment of joy for all passengers of Emirates flight who clapped as the plane landed safely in the Kochi airport. The air pocket left quite a few passengers with some deep cuts and bruises who hit their head on the roof of the plane. Following the air pocket, many passengers who were hurt were brought out in wheel chairs. The pilot of the plane said that air pocket is a common thing but this one was really a big one at 15000 feet which generally makes it a tough job to steer the aircraft in the right direction. After the plane managed to land safely in the airport, the doctors were called to attend the passengers who were hurt in the incident.