Chicago Blizzard 2011 Creates Havoc
By Madhusmita, Gaea News Network
Thursday, February 3, 2011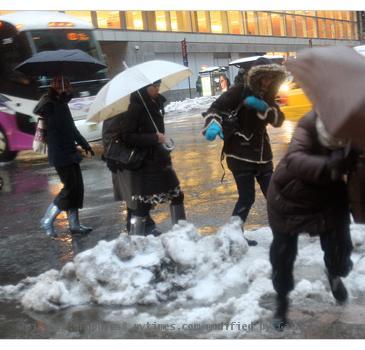 more images
CHICAGO (GaeaTimes.com)- The national Weather Service has announced that though rampage of blizzard is over but the temperature of the city is expected to fall down to 5 or below zero in next few days. Christopher Vaccaro, the spokesperson of National Weather Service told a reputed media source that it would take time to for the snow and ice to melt in many areas. He also said that Chicago Blizzard 2011 was a giant, larger and powerful storm. The media outlets reported that many people were injured and some died in such a bad weather condition. Moreover, there are reports that few buildings were also collapsed and most importantly, there was complete chaos in Lake Shore Drive as heavy wind and whiteout condition disrupted the visibility and left thousands of people stranded in the road.
The Chicago Blizzard 2011 can be called as the third largest blizzard of the city and it recorded 20.2 inches of snow at O'Hare Airport, the National Weather Service reported. It was a terrible day for the travelers, be it airplanes, rails or simple cars. The media outlets reported that nearly ten million people stayed indoors on Wednesday. On the other hand, the rescue officers also had to face difficulties owing to the whiteout conditions on road. There were power outage as well and the power companies worked hard to restore electricity of Chicago.
Chicago public schools and other institutions were also closed for Chicago Blizzard 2011. The National Weather Service officials reported that the deep snow accumulation will make the rescue operation difficult and hence the rescue officials will need more time to clean the city. Rahm Emanuel, the former chief of staff of White House has strongly criticized the late response inn terms of rescue operation of the city.