Saddletramps Motorcycle Club Crash: Driver Detained
By Swatilekha Paul, Gaea News Network
Monday, November 15, 2010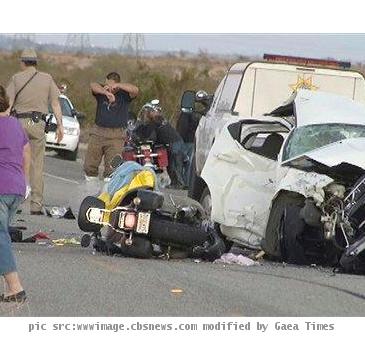 more images
SAN DIEGO (GaeaTimes.com)- Biker Ramirez, one of the members of the Saddletramps Motorcycle Club could never have imagined that their celebration of the tenth anniversary of the club could have ended in such a horrifying manner. He is not the only biker who is gradually recovering from a hand fracture that he suffered in the accident, as the crash also left four others injured apart from claiming five lives. The accident took place at around 1 on Saturday afternoon near Ocotillo which is at a distance of 80 miles in the east of San Diego. After a probe was initiated into the incident, California Highway Patrol officials have confirmed that a man who was behind the wheels of the one of the cars during the accident, has been taken into custody.
While divulging details about the arrest that has been made in the Saddletramps Motorcycle Club accident case, DeeAnn Goudie, an official of the California Highway Patrol has said that Carlos Ramirez Bobadilla, 36 was arrested on the basis of a misdemeanor as it is suspected that he was driving the car in an inebriated condition although any proof in this regard has not been available till now. The CHP officer has validated reports that four bikers and one of the passengers of the car were killed in the accident while five other were seriously injured. Meanwhile, reports have claimed that a gold Honda Civic was also involved in the accident but it fled the scene of the crash and the police are in the look out for the driver.
All the bikers were part of the Saddletramps Motorcycle Club which is based in Lakeside in California. The club members were enjoying a leisure ride to celebrate the club's tenth anniversary when the accident took place.