23 killed, 103 missing after Indonesian quake
By DPA, IANS
Tuesday, October 26, 2010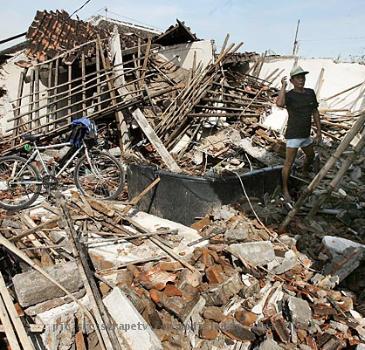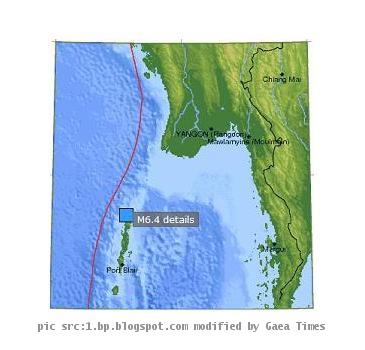 JAKARTA - At least 23 people were dead and 103 missing a day after a powerful earthquake struck off Indonesia's Mentawai islands, triggering a tsunami with waves up to three metres high, officials said.
Harmensyah, head of the Disaster Management Agency in West Sumatra province, said 10 villages on the Mentawai islands were hit by a tsunami caused by Monday's 7.2-magnitude quake.
Authorities initially lifted a tsunami warning one hour after the quake and said there were no reports of casualties or damage.
"The information came late because communication was difficult," Harmensyah said, adding that at least 23 people had been killed and 103 were reported missing.
The Mentawai chain consists of 70 islands and islets with a population of about 68,000 people, 150 km off the western coast of Sumatra.
Local legislator Hendri Dori Satoko told Metro TV that he had received a report that 40 people were killed and more than 300 people missing after the quake.
A health ministry official, Mujiarto, said earlier that two bodies had been found and an unspecified number of other residents were missing in Bosua village on the island of Sipora.
"A search is underway for the missing persons," Mujiarto, who like many Indonesians uses only one name, said, citing Sumatran health officials. He added that dozens of homes were swept away or destroyed by a tsunami minutes after the quake.
A series of aftershocks up to magnitude 6.2 followed through Tuesday afternoon, according to the Meteorology, Geophysics and Climatology Agency.
Mujiarto, the head of the ministry's Crisis Centre, said a child was missing on the island of Pagai Selatan, where waves reached as far as 600 metres inland and submerged dozens of houses.
On Pagai Utara island, up to 80 percent of homes in Betumonga village were destroyed, leaving "many people" missing and feared dead, he said.
Monday's quake was also felt strongly in several areas of western Sumatra, panicking residents in Padang, the provincial capital, agency officials said.
A magnitude-7.6 earthquake hit Padang and neighbouring districts on Java in September 2009, killing more than 1,100 people.