Tropical Storm Nicole Hits Jamaica
By Swatilekha Paul, Gaea News Network
Thursday, September 30, 2010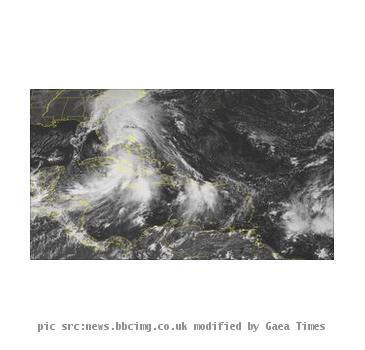 more images
KINGSTON, JAMAICA (GaeaTimes.com)- The latest storm in this year's hurricane season Tropical Storm Nicole has already been successful in hitting headlines. Earlier on Wednesday, the storm was able to make its presence felt in large parts of Jamaica as it is reported to have claimed as many as nine lives while it also caused torrential rains in regions such as Cuba, Cayman Islands, Bahamas, Florida, apart from the island nation of Jamaica.
According to the National Hurricane Center which is based in Miami, Florida, the Tropical Storm Nicole gained a maximum sustained speed of 40 miles per hour, which was just above the 39 miles per hour limit to be categorized as a storm. However, whether the depression had actually taken the shape of a tropical storm became a bone of contention between the United States and the Cuban weather officials, who pitched the storm to hold a wind strength of 37 miles per hour and disagreed that while gradually moving away from the island it was actually a tropical storm. However, it was confirmed by both the weather officials that the Tropical Storm Nicole formed on Wednesday morning but it gradually lost momentum in the afternoon.
It has been reported that in one of the incidents, a boy lost his life after the house in which he was staying collapsed in the gushing flow of the water while other six members of his family are still missing. The flash floods that has been sparked by the Tropical Storm Nicole has disrupted normal live in extensive parts of Jamaica with many people still missing.