Alaska Earthquake Information Center Reports 4.9 Magnitude Earthquake
By Reema, Gaea News Network
Tuesday, September 21, 2010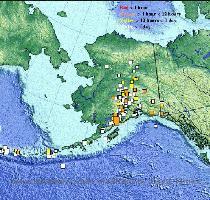 more images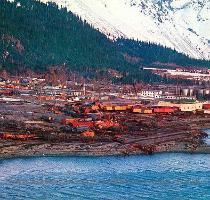 more images
ANCHORAGE, ALASKA (GaeaTimes.com)- An earthquake of magnitude 4.9 shook not only the largest city of Alaska, but also many other parts of the state on Monday afternoon at around 1:24 p.m. Along with Anchorage, the tremors of earthquake were felt in Palmer, Wasilla, Homer and Valdez. The Alaska earthquake Information Center mentioned reportedly that the epicenter of the earthquake was located at about 10 miles southwest of Anchorage. The information center maintained that the Alaska Earthquake is not expected to generate a tsunami.
Cindi Preller, a geologist with the West Coast and Alaska Tsunami Warning Center said to media sources that although the earthquake was only of a magnitude of 4.9, people reported that it shook the ground awfully hard. However, as of yet no reports of injury of property damage has been received by the information center. Cindi Preller added that one man who was standing close to the epicenter of the earthquake and had survived the 1964 Alaska earthquake called up Alaska Earthquake Information Center to share his experience. The man according to the geologist was "pretty rattled" and the tremors reminded him some of his horrific memories.
Another Anchorage resident Lisa Withers, who was inside Bell's Nursery that houses large selection of dishes and other breakables said to media sources that she thought a huge car had hit the building. Lisa Withers maintained that some flatware pieces fell off their stands due to the Monday Alaska earthquake. The she mentioned that customers at the store at that time got nervous about the noise made by the sudden rattling of dishes. Cindi Preller mentioned that although initial reports claim that the magnitude of the earthquake to be 4.9 it could very well turn out to be a magnitude 5 earthquake.