New Zealand Earthquake Damage Being Evaluated
By Swatilekha Paul, Gaea News Network
Sunday, September 5, 2010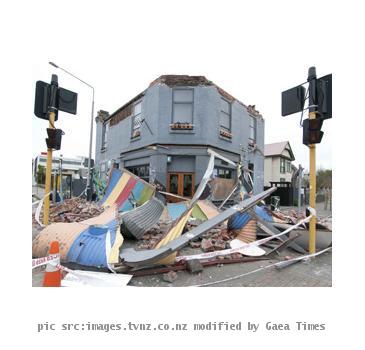 more images
CHRISTCHURCH, NEW ZEALAND (GaeaTimes.com)- Christchurch in New Zealand continued to experience a series of aftershocks as the authorities in the earthquake-ravaged city gradually evaluated the widespread damage that the natural calamity has managed to cause. After the earthquake of magnitude of 7.0 rocked the city, am overnight curfew had been imposed in parts of Christchurch so that people remain indoors and stay away from the buildings that have suffered huge destruction fearing further collapse. However, the curfew has now been lifted but the central part of the city continues to remain cordoned off.
The extensive destruction that the earthquake has caused in the second largest city of New Zealand, can easily be comprehended from the fact that the tremor is the most damaging natural calamity to hit the nation in about 80 years. Bob Parker, the mayor of the city declared a state of emergency following the earthquake while pointing out that it was indeed miraculous that absolutely no one was killed in the tremors although it knocked down buildings, disrupted water and sewage pipelines while roads across the city have also been ripped apart. Although the power has been restored in large parts of Christchurch, the supply lines of drinking water still remains disrupted.
The situation in the second largest city of New Zealand could take a bleak turn as forecasters have predicted that Christchurch might be witness to strong winds as well as heavy rains which might further worsen the scenario in the earthquake-plagued city. New Zealand experiences large number of tremors every year but rarely the earthquake are able to cause the amount of damage that Saturday's tremor resulted in.