San Bruno Limping Back To Life
By Arnab Ghosh, Gaea News Network
Tuesday, September 14, 2010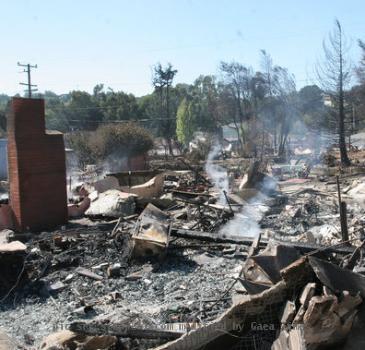 more images
SAN BRUNO (GaeaTimes.com)- The memories of the deadly fire that broke out in the neighborhood of San Bruno close to the San Francisco Airport a few days back still lingers in the mind of the residents. The devastating fire has left behind the mess and the debris and charred buildings stand in the place. The fire as everyone knows now was caused by a blast in the pipeline supplying natural gas. The authorities started evacuation fast and the people were quickly shifted to the makeshift shelters where they spent the next few days. The Red Cross also did its bit for the victims and donation from the local people also poured in.
The residents of around 250 houses in the ravaged region in San Bruno were permitted to get back to their homes on Sunday. Some people were sad to see that parts of their houses gt damaged in the raging fire. The life is slowly limping back to regular pace in the place and the residents who had to leave their home without preparation are trying to figure out what they have lost in the calamity. For them the last few days were pretty hard as they spent time in the shelters speculating what was happening to their properties and houses.
The home owners whose homes were green tagged were allowed to return while the San Bruno homes getting yellow tags were still deemed unsafe. The cops are still searching for corpses in the place. They have also deployed the sniffer dogs for this purpose. The neighbors are also extending a helping hand to the affected lot who have lost their house in the fire.