San Bruno Fire Rages On
By Arnab Ghosh, Gaea News Network
Friday, September 10, 2010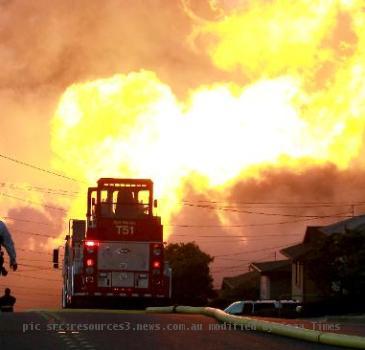 more images
SAN BRUNO (GaeaTimes.com)- In a recent development that left more than 30 people injured in San Bruno, a raging fire engulfed homes and gutted buildings last night. The fire has apparently been caused by a gas pipe blast but the root cause is yet to be traced. The sound of explosion was very loud and some of the residents described the sound as deafening. The fire was preceded by the loud thud and a tremor that made many people in the region think that it was an earthquake. Some other mistook it as a nearby airplane crash. Since the spot is not far from the San Francisco International Airport a possibility of terrorist attack also struck some people but later the underground gas line was traced as the culprit behind the disaster. The fire has destroyed a lot of buildings and left many more gutted and damaged.
The San Bruno authorities reacted swiftly and succeeded in starting evacuation fast. The residents in the region were terror struck after the fire broke out. It was huge and the flames went up 100 feet high in the air. The heat was intense and some victims say they could feel it from hundreds of feet away. Some of the victims of the fire who received serious burn injuries were taken to the adjacent Kaiser Medical Center. Two others with critical condition was taken to another hospital.
The San Bruno fire has prompted the Red Cross to jump into action. It has opened a shelter for the evacuated residents who have lost their homes and properties in the raging fire.