Earthquake Hits San Francisco
By Tias, Gaea News Network
Saturday, January 8, 2011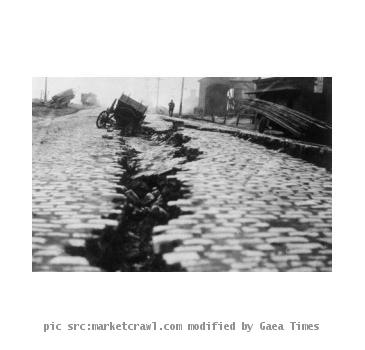 more images
SAN FRANCISCO (GaeaTimes.com)- A mild earthquake was felt sparsely but broadly across the Bay Area on Friday. It had a magnitude of 4.1 on the Richter scale and hit San Francisco and parts around it at around 4:10p.m., reported US Geological Survey. A particular web page of USGS, named "Did You Feel It" was opened for people to log in and put down their experience they had about the earthquake. The majority of people who logged on to the website reported that the quake was mild. The earthquake originated deep underground in a rocky area near the Calaveras Fault. The place is 13 miles southeast of San Jose City Hall.
Leslie Gordon, a spokeswoman of USGS reported the earthquake to be "weak to light shaking". According to USGS reports, the tremors originated at a depth of 4.4 miles. The quake was felt in San Francisco as well as the East Bay area. Office goers of San Francisco reported that almost everything in the office trembled and shook. Petra Albrecht, a coroner investigator for the Santa Clara County Medical Examiner-Coroner's Office also reported the same. Reid-Hillview Airport, the closest airport to the epicenter suffered no damage. The aircrafts and the buildings were perfectly withstood the quake, as told by an employee of that airport. The earthquake did trigger a few alarm at the San Jose Fire Department.
This is the third earthquake happening this year after the 7.1 magnitude 'quake that hit Chile and the 7.0 magnitude 'quake which hit Argentina a few days back. This earthquake came to be one of USGS's 2011 list of "significant earthquakes". A good number of San Francisco residents called up the Pacifica Police Department to confirm that they felt the tremors of the earthquake, said a spokeswoman of the department. However, there are no news for any king of damage caused by the earthquake.