Mexico Landslide Hogs Headlines
By Arnab Ghosh, Gaea News Network
Wednesday, September 29, 2010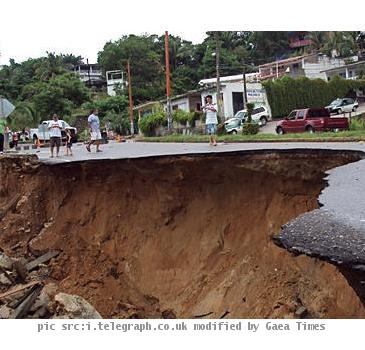 more images
MEXICO (GaeaTimes.com)- The landslide in southern Oaxaca in Mexico is hogging headlines which reportedly has killed more than 100 residents. The disaster hit the region on Tuesday and the massive landslide destroyed almost 300 homes. Governor Ulises Ruiz flew over the area and expressed his view that a total of 300 or 400 people could have been killed in the calamity. Eleven bodies have been recovered from the ravaged area so far. The local media said that 100 families are still missing and when the disaster took place most of them were sleeping. The town of Santa Maria Tlahuitoltepec is 70 km from Oaxaca the provincial capital. The officials said that part of a mountain collapsed owing to the incessant rains in the region and buried a number of houses and huts. The timing of the disaster indicates that the number of casualty can be actually much higher than the estimated number.
The state as well as national government in Mexico are now sending rescue teams to the landslide hit region but the broken road network is proving to be a problem. Rescue dogs have also been sent to trace the survivors as well as dead bodies in the debris. A bridge connecting the city to the other parts is in a bad shape and it is not usable now. The town has a total of 9000 residents. The region was ravaged by tropical storm Matthew in recent times.
The landslide in Mexico has also damaged the telecommunication network in the place. Satellite phone is still working though. It is too early to estimate the cost of the damage.