Tropical Storm Bonnie (Bahamas) 2010 Strikes Mexico by Saturday
By Avik, Gaea News Network
Friday, July 23, 2010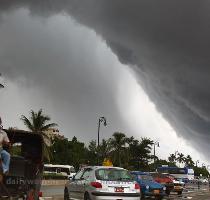 Mexico (GaeaTimes.com) — Tropical Storm has found its way through southern Bahamas. Its projected path is supposed to lead it straight to the oil spill in the Gulf of Mexico.
The storm has an impulse close 45mph and will strike Mexico by Saturday. The weather itself is alarming the upcoming danger. The skies are getting darker and noticeable rain fell all over the islands.
Tropical Storms are known for the countable damage they cause to life. Previously, Haiti, Puerto Rico and the Dominican Republic have noticed its effects.
The US National Hurricane Center has already flashed red alerts. People living in and around the projected path of the storm have prepared themselves for adversities.
Journalists have already packed there bags hoping to record this massive storm.
Hope, we sail through the storm with ease and without much damage.