Guatemala Sinkhole Engulfs Building, Kills One
By Priyanka Roy Chowdhury, Gaea News Network
Tuesday, June 1, 2010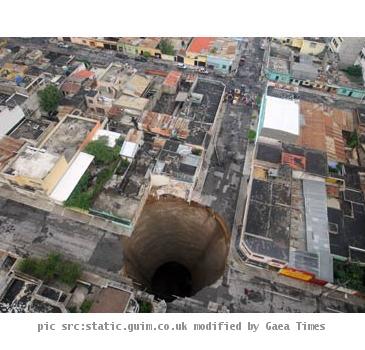 more images
GUATEMALA CITY, GUATEMALA (GaeaTimes.com)- On Monday, May 31, a giant Sinkhole was suddenly formed at a street intersection in Guatemala City. The 60-meter deep and 30-meeter wide crater was formed after the heavy Agatha storm and rain that hit the Central America. The Guatemala sinkhole was formed all of a sudden and reportedly went on to swallow a three-storey building. The sinkhole also claimed the life of one resident reportedly. The Guatemala Presidency on Monday released the photo of the sinkhole and mentioned that further studies will be carried out to know the exact reason behind the formation of the sinkhole. The authorities have previously said that the Guatemala sinkhole was formed due to the heavy rain that had saturated the earth surface over that place.
Some reports claim that the scientists have said that such a depression like the Guatemala sinkhole is formed when the bed rock suffers a faulty shift. However, this sinkhole is being said to be unusual as while such natural depressions are formed gradually with time, the Guatemala sinkhole was formed all of a sudden. The local residents are however not buying the provided reasons and said that they believe that the sinkhole was formed by the bad underground sewage system.
It is not for the first time that such a sinkhole has appeared in Guatemala, and reports claim that in April 2007 three people got killed when a similar sinkhole appeared in Guatemala. If one person was killed by the formation of the giant sinkhole, the Agatha storm has led to the death of more than hundred of people in Guatemala and made thousands more homeless.