Bombay House Sets On Fire
By Reema, Gaea News Network
Wednesday, February 9, 2011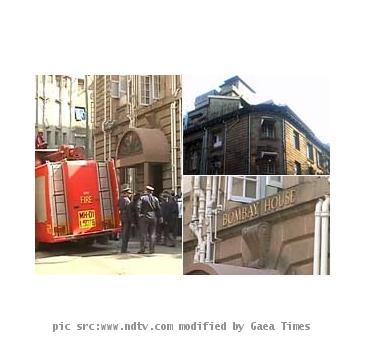 more images
MUMBAI, INDIA (GaeaTimes.com)- A major fire broke out in the basement of the famous Bombay House building, located in South Mumbai. The huge building is located near Flora Fountain in the Fort area, and is known as the main head quarter of the Tata group. The disaster took the life of three people and injured one.
Reportedly, the accident took place at about 9:20 a.m in the morning, and by 11:20 a.m, the huge building was evacuated. However, no one is sure how it at all happened or whether there was any foul play involved in it or not. The fire was first reported from the basement of the building, said a source from the fire brigade, Uday Tatkare. Four tankers and ten fire engines had to be brought to the location in order to bring the situation under control in Bombay House. The joint efforts have reduced the wrath of the fire by 11;30, but the searches for further rescue are still on. The four individuals, who were injured after this accident, were immediately rushed to the St George Hospital. All of them suffered from severe burn injuries, said officer Uday Tatkare from the fire department. However, one of them survived and is still recovering in the hospital. When the accident took place, the chairman of the company, Ratan Tata was not present in the location.
The Bombay House is regarded as one of the biggest private properties in Mumbai. Located in the Fort Area, it was built in 1924, to become the main office of the Tatas since then. The architect of the building, George Wittet, became the head of the Tata Engineering Company Limited.