Challenger Disaster's Anniversary Observed
By Swatilekha Paul, Gaea News Network
Saturday, January 29, 2011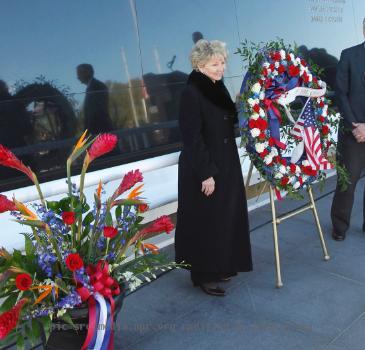 more images
CAPE CANAVERAL (GaeaTimes.com)- A special memorial service took place at the launch site of the Kennedy Space Center in Florida on Friday to commemorate the victims of the disaster encountered by the space shuttle Challenger more than two decades ago. On the same day, exactly 25 years ago, the spacecraft Challenger, which was one of NASA's dream project, took off to send seven crew members including a school teacher, Christa McAuliffe, to the space and subsequently go done in the pages of history. The launch of the space shuttle indeed went down in history but not in the manner it had expected as just 73 seconds following its take-off, Challenger went up in smoke after an explosion over the Atlantic.
The ceremony that was held at Florida's Kennedy Space Center on Friday marked the 25th anniversary of the Challenger disaster which resulted in the death of all seven astronauts aboard the space shuttle. While addressing the crowd at the ceremony, Challenger commander Francis Dick Scobee's widow, June Scobee Rodgers urged everyone present to look boldly towards the future, not only in terms of space travel but space and science education as well.
Most of the speakers during Friday's ceremony to mark the Challenger disaster, emphasized the fact that space exploration could never be without any sort of risk. NASA official Bill Gerstenmaier, who looks after the human space flight programs of the space agency said at the event, "We can't let the fear of failure stop us" while adding that "The team has learned tremendous lessons from these events." The 25th anniversary of the Challenger disaster comes on the heels of NASA's plans to bid adieu to the space shuttle program.