Provo Tabernacle Fire Causes Considerable Damage
By Naiwrita Sinha, Gaea News Network
Saturday, December 18, 2010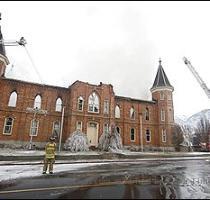 PROVO (GaeaTimes.com)- The city of Provo, Utah has been thrown out of gear after a fire broke out in the city's historic Provo Tabernacle early on Friday morning. As to what is the reason behind the flames is still not clear. Right now the city officials are deeply worried about the historic landmark which is one of the main tourist attractions in the city. Unfortunately, the main roof of the historic mansion could not be saved as it has collapsed due to the raging flames.
According to sources, rescue unit members rushed to the emergency site around 2:30 in the morning. An eyewitness said that by 6 in the morning the main roof of the Provo Tabernacle had fallen down. Destructive flames engulfed the main roof section as thick smoke emerged out of the fire. It continued to burn for a considerable period of time. The Provo Tabernacle also features in the list of the National Register of Historic Places. Unfortunately, a fire unit spokesperson reported that the walls, peak and gables of the huge red stone building has been badly affected as a result of the fire.
City officials are desperately hoping that the vintage building can be saved once the fire is taken under control. It is quite obvious on their part that they do not want to lose Provo Tabernacle at any cost as it is not only the city's major tourist attraction but also a pride for the Provo residents. The building was built in the 1880's and has some unique antique features like hand-crafted stained glass windows, winding staircase, wooden benches made by the actual settlers of the region. The huge ceiling which is beautifully decorated with timbered beams is surely eye catching.