Dying Birds' Mystery Continues
By Swatilekha Paul, Gaea News Network
Thursday, January 6, 2011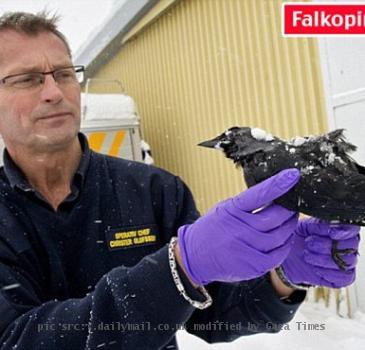 more images
FALKOPING, SWEDEN (GaeaTimes.com)- After the town of Beebe in Arkansas, now it seems to be the turn of Sweden to be hit by the mystery of dying birds falling from the sky. Around 50 jackdaws were discovered to be dead and scattered all over the streets of Falkoping in Sweden on Tuesday night and the numbers further increased the next day. The news of the death of the birds comes on the heels of similar incidents that the U.S. state of Arkansas encountered on New Year's Eve when a staggering 5,000 birds fell from the sky leaving residents rather puzzled.
After a thorough examination was undertaken by the Swedish National Veterinary Institute to know the reason behind the phenomenon of dying birds, it has been reported that the jackdaws are presumed to have died owing to certain 'sudden and external blows' which left them in a state of shock later resulting in their deaths. While Swedish experts are trying their best to reach a conclusion regarding the mystery of dying birds, environmental experts have been left rather perplexed with the increasing number of mass deaths of birds and fishes being reported from almost all over the world.
With Arkansas and Sweden trying to cope with the issue of dying birds, around 100 tons of different variety of fishes have been found dead along the coastline of Brazil. Increasing number of fish deaths have come to light in New Zealand while in Britain, the remains of a whopping 40,000 devil crabs have been found in a popular beach. In all the regions affected by the mystery death of animals, tests are being conducted but results are pending.