Metrodome Collapse Video On Web
By Madhusmita, Gaea News Network
Monday, December 13, 2010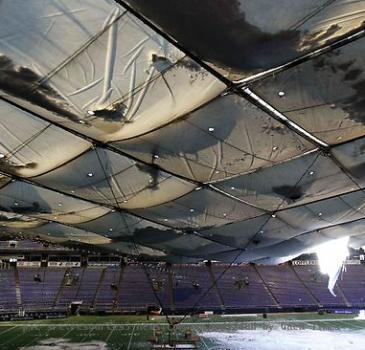 more images
MINNEAPOLIS (GaeaTimes.com)- It seems that the air-supported fiberglass roof of Hubert H. Humphrey Metrodome could not stand under the heavy snowfall's weight. The Metrodome roof in Minneapolis collapsed early Sunday morning and it forced the scheduled game between the Minnesota Vikings and the New York Giants to postpone. The game will take place at Ford Field in Detroit on Monday night. Metrodome collapse video has become an online rage and people are scrambling on web to see how a 28 year old technology suddenly deflated owing to natural causes.
This collapse of rooftop has forced the National Football League officials to look for another venue for the match between New York Giants and Minnesota Vikings. The two teams were supposed to face each other on Sunday afternoon. However, owing to the sudden accident, the officials have postponed the match to Monday night. Luckily, nobody was hurt in the accident and the stadium is presently under repair. The stadium officials reported that they are trying to repair Metrodome stadium before December 20. The Metrodome collapse video is available at a reputed web portal along with analysis about the upcoming match.
The local media reported that the storm across the Midwest has caused flight cancellation at several places, which includes over 1,600 in Chicago. A reputed media outlet reported that the crew who were clearing snow from the roof of Metrodome roof asked NFL officials to postpone the game from Sunday to Monday. On the other hand Minnesota Vikings team are refunding the cost of tickets for the fans who will not be able to make it to the new venue. The collapse video shows that the snow leaking through the roof and the clip caught how the pressure of the snow created a big hole on the rooftop.