Shark Attack In Egypt
By Madhusmita, Gaea News Network
Monday, December 6, 2010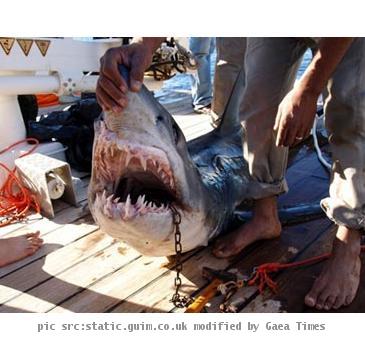 more images
CAIRO (GaeaTimes.com)- A German woman who was holidaying in Egypt died after she was attacked by a shark, the security officials announced the news on Sunday. The incident took place near the popular Egyptian resort Sharm el-Sheikh and the media outlets reported the search team closed the beaches along the Red Sea Coast of Egypt on Sunday to look for the sharks. The law enforcement officials said that the 70 year old woman died on Sunday after she was attacked by a shark while she was swimming near the Red Sea.
Shark attack in Egypt has shocked the citizens as it is the third attack near Red Sea Coast within a week. The medical officials reported that the tourist died immediately after the shark mauled her arm and thigh. Egyptian Tourism minister Zuhair Garana explained her concern and said that this kind of shocking incident has never happened before and the Government has no explanation for this. He said that they are getting marine biologists from other countries to assess the situation to know the change in the biological nature of the place. Rolf Schmid, the manager of the Sinai Diver's Centre said that this kind of incident never happened for the past 10 to 15 years.
The doctors say that the German woman died due to loss of blood. The Tourism minister said that every beach in Egypt has been closed after the shark attack except Ras Mohammed, which is situated at the south of the city. South Sinai governor Mohammed Shosha said over-fishing might be one of the reasons which as forced these sharks to come near the shore. Miami's Bimini Biological Field Station's head Samuel Gruber said that the whole incident is "unprecedented".