Israel Fire Claims 41 Lives
By Madhusmita, Gaea News Network
Saturday, December 4, 2010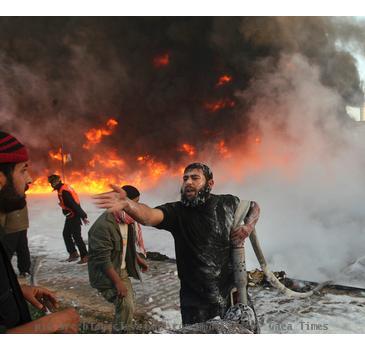 more images
HAIFA, ISRAEL (GaeaTimes.com)- It can be called as the largest fire in the history of Israel which scorched more than 7,400 hectares of land, exposed severe shortcomings and at the same time destroyed houses in last three days. The Israeli police says that they suspect arson in the wildfire which claimed more than 40 lives and it can be called as the worst in the nation's history. More than 17,000 people have been evacuated from their homes as a safety measure and country's police chief, David Cohen said that the police are still investigating the reason for inferno. UN Secretary General Ban Ki-moon offered help to the country to battle the blaze on Mount Carmel which now threatens Haifa port as well.
Unites States of America has also offered help and has sent five aircraft to fight against the raging fire which has even injured 17 people. The Prime Minister of Great Britain, David Cameron has also sent two helicopters to help the security to douse the fire. Great Britain's Foreign Secretary William Hague expressed his condolences and said that the fire that broke out in Israel is sad as it comes during the time when Jewish community is celebrating Hanukkah. However, he said that United Kingdom will help the country in this moment of distress.
The Prime Minister of Israel, Benjamin Netanyahu thanked their emergency crews on Friday night for putting out the fire. However, he said that Israel fire is the disaster of "unprecedented proportions". The President of United States, Barack Obama has expressed his deepest condolences and said that U.S. would help Israel at the time of their disaster.