Lake Shore Drive Closed
By Madhusmita, Gaea News Network
Thursday, February 3, 2011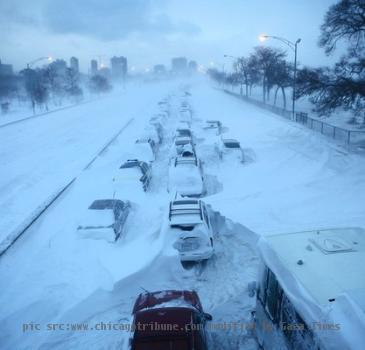 more images
CHICAGO (GaeaTimes.com)- Chicago's Lake Shore Drive was closed Tuesday evening after three unfortunate accidents took place and whiteout conditions turned it misleading. The commuters were stranded on the road for about 12 hours and the authorities say that about 700 to 900 cars were abandoned on the road. Mayor Richard Daley's chief staff Raymond Orozco apologized to the commoners for the inconvenience caused and said that near about 30 police officers, 13 ambulances, 26 fire companies and 130 firefighters were sent to the location to ensure safety.
In his statement, Raymond Orozco said that "in 31 years with the city", he has never experienced anything like they did in Lake Shore Drive. However, he also took the full responsibility of the inconvenience and said that he made the right decision by not closing down Lake Shore Drive on Tuesday afternoon. He told a reputed media outlet that in a storm like Chicago Blizzard, there was no way to know or predict what kind of problems might arise in future. He also commented that in such a grave situation he chose to keep the Drive open. However, the law enforcement officials reported that there was no loss of life or serious injuries in the "life-threatening storm". Raymond Orozco also said that the Government obtained best possible outcome in their rescue effort. Lake Shore Drive was also closed on Wednesday for rescue operation.
The authorities reported that Lake Shore Drive was closed to clear the snow and also about 300 vehicles were still stuck in the place. National Weather Service announced that stormy wind will continue till Thursday afternoon. The public schools of the city were also closed for the first time in 12 years owing to the storm.